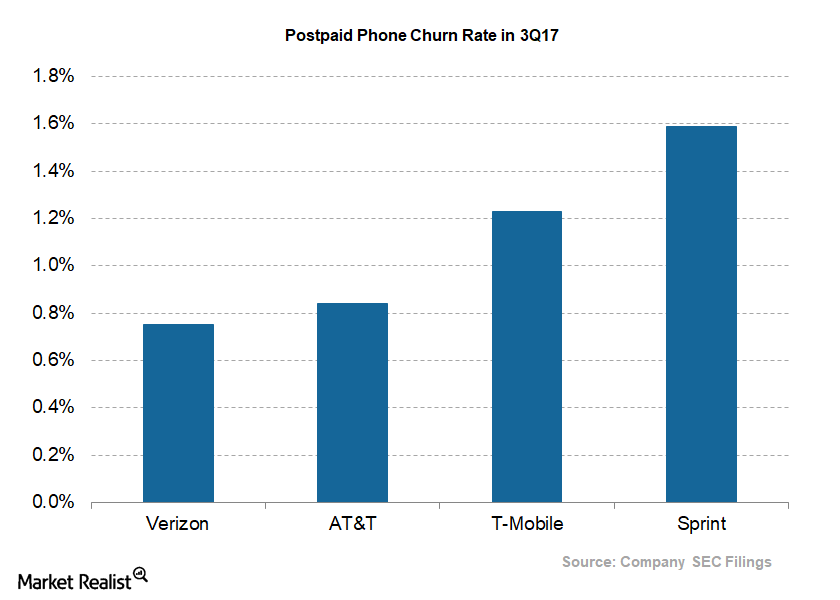 Could Sprint's Churn Always Be Higher Than Its Competitors?
By Ambrish Shah

Dec. 8 2017, Updated 10:30 a.m. ET
Sprint's postpaid phone churn rate
Sprint's (S) postpaid phone churn rate is still the highest in the US (SPY) wireless space. In fiscal 2Q17 (ended September 2017), it reported a postpaid phone churn rate of 1.6% compared to 1.5% in fiscal 1Q17 and 1.4% in fiscal 2Q16.
During the Wells Fargo Media & Telecom Conference on November 8, 2017, Marcelo Claure, Sprint's CEO (chief executive officer), spoke about the company's churn rate. Claure said the telecom (telecommunications) company is looking to reduce the churn rate by launching a new quality of experience tool that assigns each customer a score "based on all the movements that they do, based on how they use their phone, based on which applications they download. And it's a ranking from 1 to 5." Claure also said that "if we have the ability as a company to basically deploy the network plan that we have ahead of us, there's a direct correlation to quality of network to basically churn that you're going to do."
Article continues below advertisement
Additionally, Claure highlighted that Sprint's churn will always be higher than its competitors' churn since "we haven't written down our base. So we have a difference between acquisition, price that we bring customers and the price that our base stands there. We made analysis and say, how much will it cost to basically write down our base to that amount, and the expense is significantly higher than when it cost you to basically have a higher churn customer."
Sprint has a high leasing base with many out-of-term leases, which means customers have already paid for their handsets but still pay a lease payment and use it without upgrading. As a result, these customers will have a higher churn rate.
Sprint's peer comparison of postpaid phone churn in 3Q17