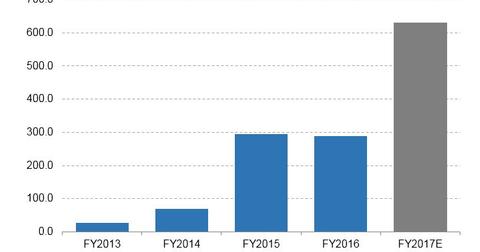 Why Sony Called Back Its Aibo Robot Dog
By Ruchi Gupta

Updated
Paring losses: the halting of the original Aibo
Sony (SNE) brought back its robot dog, Aibo, more than ten years after the company discontinued the original Aibo product line. Why did Sony halt the original Aibo, and what does it expect with the refreshed Aibo?
The halting of the original Aibo was tied to Sony's efforts to try to control costs and pare losses in its electronics businesses. Sony stopped producing the original Aibo in 2006. After years of cost-cutting, it appears that Sony's management feels the company has streamlined its finances sufficiently that it can return to the ambitious robotic dog business.
Article continues below advertisement
A larger market
With the new Aibo, Sony could also be hoping that the market for robot pets has enlarged since it left the scene over a decade ago. And this could be true in Japan, where Toyota Motor (TM), Sharp, and SoftBank, the parent of US-based (SPY) wireless operator Sprint (S), have launched consumer-oriented robotic products.
Record profits anticipated
As if to show that its turnaround was successful, Sony is anticipating the highest fiscal year profits in its 71-year history. The company is expecting a fiscal 2017 (ended March 2018) operating profit of 630 billion yen (about $5.6 billion) and it anticipates revenues of 8.5 trillion yen for the same fiscal year.
Sony's record profit guidance for fiscal 2017 is partly tied to its anticipation of strong demand for advanced smartphone components. For example, the face-recognition feature in Apple's (AAPL) iPhone X is expected to expand the market for image sensors, and Sony is one of the suppliers of image sensors through its semiconductor unit.