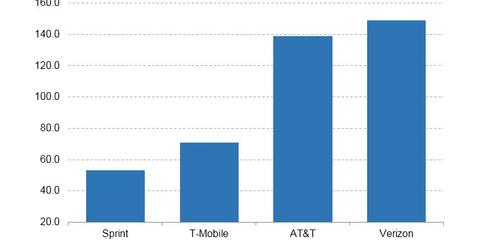 SoftBank's Role in the Failed Sprint–T-Mobile Merger
By Ruchi Gupta

Updated
Sprint and T-Mobile failed to reach agreeable terms
US-based (SPY) mobile carriers Sprint (S) and T-Mobile (TMUS) announced last month that they decided to cease merger talks led by their respective parent companies, SoftBank, a leading telecom company based in Japan (EWJ), and Deutsche Telekom, a leading telecom operator based in Germany (EWG).
In a statement, Sprint and T-Mobile admitted that the prospects of combining the companies were compelling, but they had to call off the merger talks after they failed to reach "mutually agreeable terms."
Article continues below advertisement
Control and valuation issues likely led to collapse of talks
Sprint and T-Mobile didn't go into detail about exactly what the "mutually agreeable terms" were, but the merger may have stalled over the valuation of Sprint and control of the combined company.
In a story published just days before Sprint and T-Mobile announced an end to their merger discussions, the Wall Street Journal said SoftBank decided to drop efforts to merge with T-Mobile. The reason for suspending the efforts may have been SoftBank's founder and chairman, Masayoshi Son, expressing concern about giving up too much control in the combined company.
SoftBank appeared willing to cede control
If the issue of control led to the breakdown of the merger talks, perhaps there are two ways to understand the situation. In February, just before Sprint and T-Mobile started exploring a merger, Reuters reported that SoftBank was willing to give up control of Sprint in order to entice Deutsche Telekom into a deal. Did SoftBank change its mind about ceding control of Sprint?
If SoftBank didn't change its mind regarding surrendering control of Sprint, perhaps the merger talks stalled because Deutsche Telekom demanded that it give up too much control. As the chart above shows, Verizon (VZ) and AT&T (T) are the largest telecom providers in the US while T-Mobile is larger than Sprint in terms of subscribers.