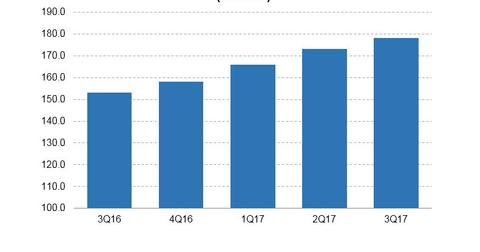 Why Snap Had to Redesign Snapchat
By Neha Gupta

Updated
Boosting audience growth
Snap (SNAP) recently launched a redesigned version of its Snapchat app, just as it promised when it released its 3Q17 earnings results in early November. According to the company, "the new Snapchat separates the social from the media."
When reporting its 3Q17 results, Snap stated that it had received feedback that using Snapchat was challenging for some people, which it believes is linked to its slow audience growth. As a result, Snap CEO Evan Spiegel promised an overhaul of Snapchat to make the app simpler to understand and use. The redesign is expected to accelerate Snapchat's audience growth.
Snapchat had 178 million daily users at the end of 3Q17, up from 173 million daily users at the end of 2Q17 but below the 181.8 million daily users analysts expected.
Article continues below advertisement
Personalizing experience
Snap expects to achieve more with the Snapchat redesign—it hopes that by separating the social from the media, it will deliver a more personalized experience for users, which could increase platform engagement and encourage markets to increase spending on Snapchat advertising.
Curbing the spread of fake news
Snapchat's separation of the social from the media is expected to go a long way in curbing the spread of fake news on social media platforms. Facebook (FB), Alphabet's (GOOGL) Google, and Twitter (TWTR) have recently faced criticism for allowing their platforms to be used to spread misleading information. It's believed Russian operatives used Facebook and other social media platforms to influence the outcome of the 2016 US (SPY) presidential election, prompting Congress to propose a law that would force social media companies to reveal more information about their advertising practices.