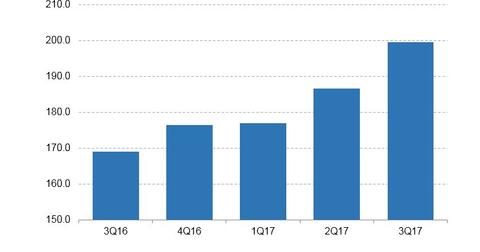 Shedding Light on Yelp's Revenue Segments
By Neha Gupta

Updated
Advertising revenue grew 18%
Since 2016, Yelp (YELP) has been breaking down its revenues into three segments: Advertising, Transactions, and Subscriptions and other services. Before 2016, the company broke down revenues into four segments, including Brand revenues.
Yelp recorded growth across all its three of its current revenue segments in 3Q17. Advertising, its largest revenue segment, recorded revenue growth of 18% YoY (year-over-year) to $199.6 million.
Notably, advertising is where Yelp competes more directly with Facebook (FB), Google (GOOGL), and Snap (SNAP), whose revenues grew 49%, 21.4% and 59% YoY, respectively, in 3Q17. Twitter (TWTR), another Yelp advertising rival, recorded an 8.0% fall in its advertising revenues in 3Q17.
Subscriptions revenue grew over 207%
Yelp's Transactions revenue grew 16% YoY to $18.5 million, while Subscriptions and services revenues rose more than 207% YoY to $4.3 million. As such, Subscriptions and other services was Yelp's fastest-growing business segment in 3Q17.
Overall revenue growth slowed in 3Q17
The growth across segments lifted Yelp's overall revenues 19% YoY to $222.4 million. However, compared with 2Q17 and 3Q16, Yelp's revenue growth slowed in 3Q17. Revenues grew 20% YoY in 2Q17 and 30% YoY in 3Q16.
Notably, the faster growth in these past quarters came from a smaller revenue figure, as revenues were only $208.9 million in 2Q17 and $186.2 million in 3Q16.