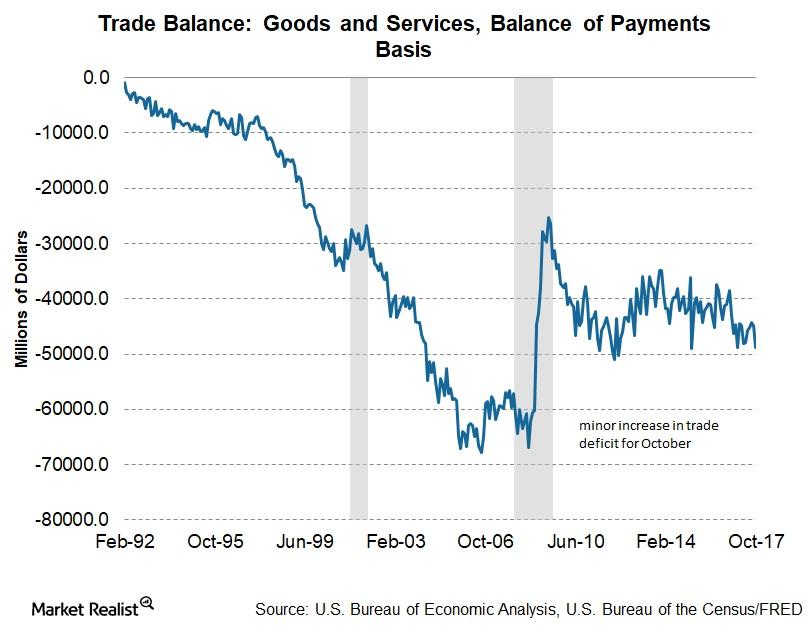 Why Rising Trade Is a Great Sign for the Global Economy
US trade deficit increased in October
The US Bureau of Economic Analysis publishes a monthly report on US international trade in goods and services, detailing the changes in imports and exports. According to the latest report released on December 5, 2017, the US trade deficit increased to $48.7 billion in October from a revised $44.9 billion in September. Total exports remained unchanged at $195.9 billion, but imports increased $3.8 billion to $244.6 billion, a new record.
Article continues below advertisement
The year-to-date increase in the deficit was reported at 11.9% from the same period last year. The total trade, which includes imports and exports, increased 6.3% in the previous year. An increase in total trade is considered a positive sign for the global economy and can benefit countries such as China (FXI) and Japan (EWJ), who are net exporters.
Trade patterns based on the industry
According to the latest trade deficit report, exports of food, feed, and beverages have decreased $1.3 billion. Soybean exports have decreased $1.4 billion, capital goods exports have decreased $1.2 billion, and civilian aircraft (BA) exports have decreased $1.1 billion. The only industry that witnessed an increase in exports was the industrial supplies and materials industry, which increased $2.6 billion. Financial services and other business services exports remained unchanged.
For imports, the major increase was witnessed in industrial (XLI) supplies and materials, which is a good sign since companies could be importing more in response to increased demand. The other notable increase was crude oil (USO) imports, which increased $1.5 billion.
Deficit/surplus by country
The US economy has seen an increased deficit with its key trading partners. The deficit with China (FXI) increased $2.1 billion to $31.9 billion in October. The surprise was in the decrease of the deficit with the European Union to $25 billion, which is a signal that demand from Europe could rise further in the months ahead.
Overall, trade improved in 2017, and with the absence of any irrational announcement from the Trump administration, we can expect further improvement in total trade in 2018.