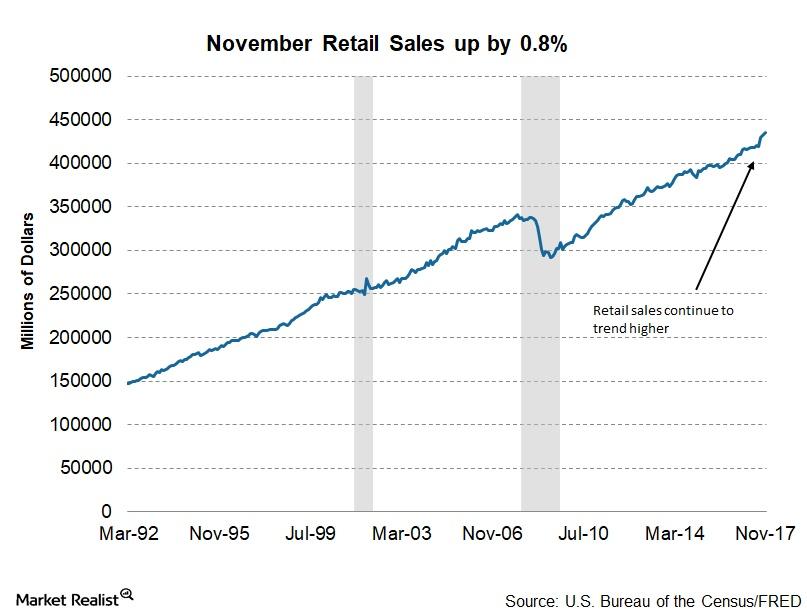 What a Rise in Retail Sales Means for the Sector
Retail sales rose 0.8% in November
The United States Census Bureau prepares a monthly report on retail sales. It conducts an advance monthly survey of retail trade and food service companies, and the survey results are used to calculate an estimate of monthly sales.
The Bureau's latest retail (XRT) sales report was released on December 14, 2017. It reported that retail sales for November have risen 0.8%. October and September retail sales were revised higher to 0.5% and 2.0%, respectively.
Article continues below advertisement
Breakdown of sales by industry
For the September and October reporting periods, retail (RTH) sales were dominated by auto sales as consumers replaced damaged cars (CARZ) after the hurricanes. The November report, however, has seen a natural decline in auto sales after two months of demand. The other 12 industries surveyed reported an increase in sales, which is a positive sign for the economy.
The trend of improving online sales continued in November with non-store retail (IBUY) sales increasing 2.5%, the highest increase in this year. E-commerce sales were followed by gas station sales reflecting the increase in global oil prices. Core retail sales, which exclude auto, gas (XLE), and building materials, have risen 0.8%, another strong signal for economic growth.
Outlook for retail sales
With the Christmas shopping season still not reflected in the latest report, we can probably expect another strong month in December, which would make 2017 a good year for the retail sector. Going forward, increasing domestic demand, higher wages, and lower employment could further benefit the retail industry.