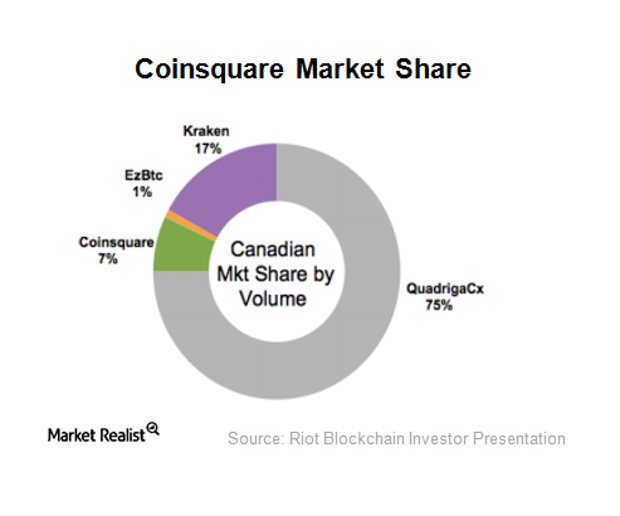 Riot Blockchain's Recent Investments in the Cryptocurrency Space
By Kenneth Smith

Nov. 20 2020, Updated 1:17 p.m. ET
Tess
In October 2017, Riot Blockchain (RIOT) acquired a 52% stake in Tess, a developer of blockchain solutions for telecom (telecommunications) companies. In exchange, Riot issued 75,000 shares and invested $320,000 in Tess. As of October 20, 2017, Tess had a team of seven people and tangible assets worth ~$10,000.
Tess aims to develop payment services for telecom carriers that will be based on blockchain and have a guaranteed on-time full payment. Instead of traditional written legal agreements, the contracts will be Tess smart contracts that are represented programmatically. These smart contracts will be paid for with Tess US Dollar Minute-Tokens (MUSD). They offer worldwide fast payments within minutes without any fees to receive payments.
Article continues below advertisement
Coinsquare
In September 2017, Riot Blockchain acquired an 11% stake in Coinsquare for $3 million. Coinsquare operates a digital cryptocurrency exchange in Canada. Riot has the option to increase this stake to 14.7% through warrants that expire in May 2018. According to CBIX.ca, Coinsquare is the second-largest exchange for digital currencies in Canada by trading volume.
Verady
In November 2017, Riot Blockchain made an investment in Verady, a provider of accounting, audit, and verification for assets based on blockchain. Recently, Verady launched VeraNet, a decentralized network of reporting and accounting tools. Verady hopes for VeraNet to bridge the gap between traditional accounting and cryptocurrencies.
With these investments, the company's cash position needs to be looked at to determine if it can continue to operate at this pace. Its current ratio, a measure of how easily it can meet its short-term liabilities, stands at a healthy level of 15.1. Peers Digital Power (DPW), Marathon Patent Group (MARA), and Square (SQ) have ratios of 0.6x, 0.2x, and 1.8x, respectively.
In the next part of this series, we'll take an in-depth look at Riot Blockchain's financials.