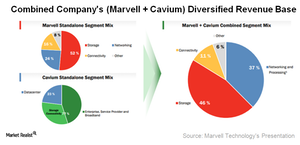 The Revenue Structure of the Combined Marvell-Cavium
Change in revenue structure 
The acquisition of Cavium (CAVM) by Marvell Technology (MRVL) would mean several revenue and cost synergies and also change the combined company's revenue structure.
Marvell's exposure to overall storage would reduce from 52% to 46%, with the exposure in the declining HDD (hard disk drive) market reducing from 35% to 25% and exposure in notebook SSDs (solid-state drives) reducing from 15% to under 10%. However, its exposure to the fast-growing networking and processing market would rise from 25% to 37%. Cavium's exposure in the declining cyber channel franchise would also reduce.
If Cavium's ARM-based ThunderX2 server processors turn out to be a success, the combined company's revenue structure would change to 33% each from networking, storage, and compute.
Article continues below advertisement
Combined company's total addressable market 
The two companies' complementary product portfolio would double the combined company's TAM (total addressable market) to over $16 billion. The two companies currently own only 20% of the TAM, leaving a lot of room to grow. Let's see how the combined company would tap this growth opportunity.
As enterprises shifted to the cloud, the demand for HDD reduced while the demand for high-speed networking rose. The emergence of the Cloud created a multi-year secular growth trend for high bandwidth networking, storage, and heterogeneous processing in the data center space. This trend has created an opportunity for Marvell in the cloud and data center market. Telecommunication providers would move to 5G by 2020, creating a new growth opportunity for Marvell's connectivity business.
Cavium would continue to enjoy growth in MIPS (Microprocessor without Interlocked Pipeline Stages)–based Octeon III multicore chips for networking and storage applications because telecommunications and service providers don't upgrade technology for eight to nine years.
Cavium also has a strong growth opportunity in the data center processor market with its ThunderX2 ARM server processor. ThunderX2 is a result of Cavium's acquisition of the Vulcan ARM server processor from Broadcom (AVGO). Cavium can also use the technology and components of ThunderX2 in other products such as Marvell's Armada embedded chips. Armada chips are based on Intel's (INTC) XScale ARM processors, which Marvell acquired in 2006.
Adjacent opportunities
In the long term, the combined Marvell-Cavium company would also tap adjacent markets such as industrial, automotive, and SMB (small medium business), where there's growing demand for increased network bandwidth, massive data storage, and new computing paradigms.
Marvell has experience in automotive, as it powered the first WiFi-enabled car from Audi in 2011. As the world moves toward autonomous driving, the wired-in-car network is transforming from analog interfaces to a high-speed ethernet network, which could pave the way for Marvell's automotive ethernet.
These cost and revenue synergies could help Marvell increase its annual revenue growth rate to 6% to 8% and its gross and operating margin to 65% and 35%, respectively, in the long term.
Next, we will see what this deal means to Marvell shareholders.