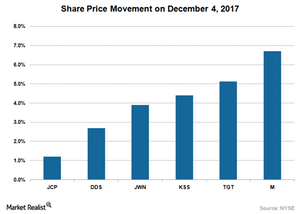 Retail Stocks Tick Higher as Tax Reform Bill Gains Momentum
By Amit Singh

Dec. 6 2017, Updated 7:33 a.m. ET
Why it matters to retailers
Retail stocks closed higher on Monday, December 4, 2017, probably in reaction to the Senate's passing its tax reform bill early Saturday morning. The bill, among other things, offers sweeping cuts to the corporate tax rate. The tax overhaul plan, which still needs to be reconciled between the House and Senate versions, would lower the corporate tax rate to 20% from the current 35%, thus boosting corporate earnings.
Article continues below advertisement
Simply put, sectors with the highest effective tax rates are expected to gain the most from the lower rate. Retailers are part of an industry with the highest corporate tax rate and thus stand to benefit from tax reform. Citing Credit Suisse data, MarketWatch reported that retailers top the list of sectors paying higher taxes, with an effective tax rate of 35%. That's followed by the telecom (telecommunications) sector.
Other aspects of the tax reform bill, including doubling the standard deduction, could result in higher discretionary income for individuals, which, in turn, could spur consumer demand. We'll have to wait and see if consumer discretionary spending rises.
Retail stocks closed higher
The tax reform bill is expected to benefit companies that have the highest domestic exposure. Department stores are at the top of that list. Homegrown companies focusing on the domestic market could see their earnings increase with a lower tax rate.
Retailers that have been grappling with lower store traffic in the wake of a consumer shift toward online shopping finally have something to cheer about. The above graph shows that the stock prices of notable retail companies, mainly department stores, closed higher on Monday. Macy's (M) stock rose 6.7%, while Target (TGT) rose 5.1%. Kohl's (KSS), Nordstrom (JWN), Dillard's (DDS), and JCPenney (JCP) rose 4.4%, 3.9%, 2.7%, and 1.2%, respectively. The SPDR S&P Retail ETF (XRT) rose 2.3%.
Lowe's (LOW), Chipotle Mexican Grill (CMG), Gap (GPS), and AT&T (T) also gained on Monday, probably in anticipation of the benefits of a lower tax rate.