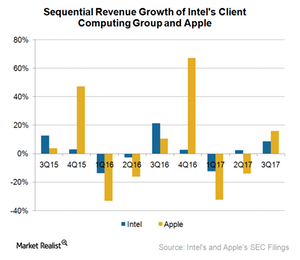 The Relationship between Apple and Intel Goes beyond iPhones
By Puja Tayal

Dec. 15 2017, Updated 7:32 a.m. ET
Connection between Intel and Apple
Broadcom (AVGO) is one of the largest component suppliers for Apple's (AAPL) iPhone. As a new supplier to Apple's iPhones, Intel (INTC) has been associated with Apple for its MacBook products, which use Intel's CPUs (central processing units).
In 2016, Apple first used Intel's baseband modem in its non-CDMA[1. code-division multiple access] iPhones. Before that, Qualcomm (QCOM) was the exclusive modem supplier for Apple. However, Apple and Qualcomm started a legal battle in January 2017, which proved beneficial for Intel.
In the 2017 iPhone models, Intel not only supplied modems but also its transceiver and power management chips. Apple is one of the major customers of Intel's Client Computing Group (or CCG).
Article continues below advertisement
Impact on Intel's earnings
As Intel's relationship with Apple goes beyond iPhone and into MacBook products, we could compare Intel's CCG revenues with Apple's overall revenues. The chart above shows that calendar 1Q and 2Q are seasonally weak for both businesses. However, 3Q is the peak season for Intel, as it helps Apple and other PC vendors prepare for their holiday season sales.
CCG's sequential revenue growth slowed to 8.5% in 3Q17 from 21.3% in 3Q16 as competition from Advanced Micro Devices' (AMD) Ryzen CPUs prevented it from increasing its ASP.[1. average selling price] However, Intel increased its ASP in the mobile business as it supplied its premium modems for the 2017 iPhones.
The iPhone 8 and 8 Plus teardown showed that Apple used Intel's new XMM 7480 modem for its non-CDMA iPhones and Qualcomm's X16 modem for its CDMA iPhones.
Intel's modem has a peak download speed of 600 megabits per second (or Mbps), which is lower than Qualcomm modem's peak download speed of 1 gigabit per second (or Gbps). It is not yet known whether Apple throttled Qualcomm-based iPhones to produce feature parity.
Apple, Intel, and Qualcomm
Although Intel's modems are not on par with Qualcomm's modems, Apple is favoring Intel modems to ensure it has a backup supplier as its legal battle with Qualcomm intensifies. Intel is currently building CDMA modems, which are expected to be ready by 2018.
Several recent reports by the Nikkei Asian Review, citing industry sources, stated that Apple intends to reduce its reliance on both Intel and Qualcomm by developing  in-house modem technology. If these two chipmakers lose orders for Apple's iPhones, they would be able to offset the losses by focusing on the emerging trends of data center and automotive uses.
Next, we'll look at small suppliers that depend heavily on Apple for their revenues.