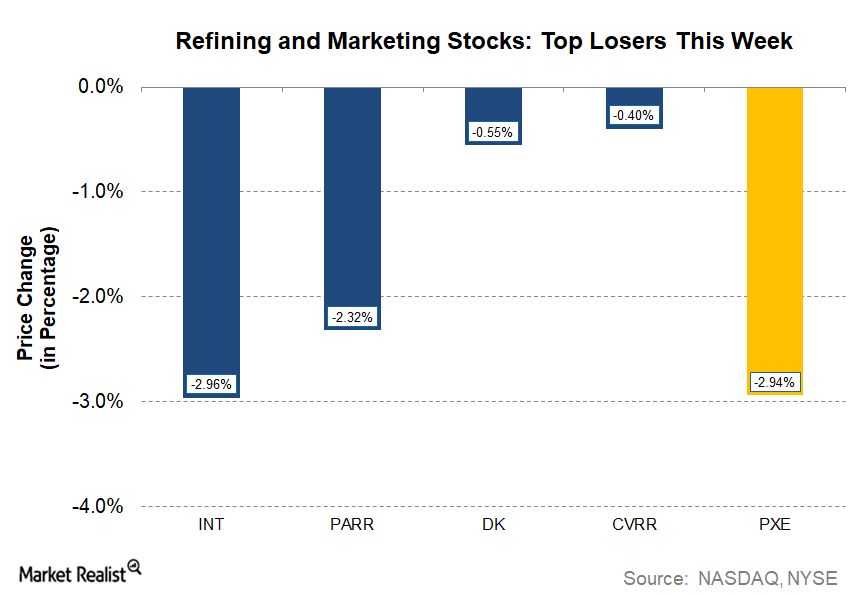 Refining and Marketing: INT, PARR, DK, and CVRR Falling This Week
By Nicholas Chapman

Dec. 8 2017, Updated 9:02 a.m. ET
Refining and marketing segment
In this article, we'll look at this week's top losing stocks from the crude oil and gas refining and marketing sector in the United States. To compile our group of top refining and marketing movers, we chose refining and marketing companies with market cap levels greater than $100 million and a weekly average volume exceeding 100,000 shares.
Article continues below advertisement
World Fuel Services
So far this week, World Fuel Services (INT) is the biggest loser from the refining and marketing sector. INT fell ~3.0% from the previous week's close of $28.04 to $27.21 on December 6.
World Fuel Services stock has been in a strong downtrend in 2017, although there hasn't been any recent news related to its stock. Year-to-date, INT has fallen almost 40.0%. So, this week's move by INT appears to be part of its ongoing downtrend.
On December 1, 2017, World Fuel Services (INT) announced a quarterly cash dividend of $0.06 per share on its common stock. This dividend is payable on January 5, 2018, to stockholders of record on December 15, 2017.
Peers
The other refining and marketing laggards in the current week are Par Pacific Holdings, Delek US Holdings (DK), and CVR Refining (CVRR). Par Pacific Holdings, Delek US Holdings, and CVR Refining have fallen ~2.3%, 0.55%, and 0.40%, respectively, this week.
However, these stocks are outperforming the PowerShares Dynamic Energy Exploration & Production Portfolio ETF (PXE), which has fallen ~2.9% this week. The SPDR S&P 500 ETF (SPY) has fallen 0.46% this week.