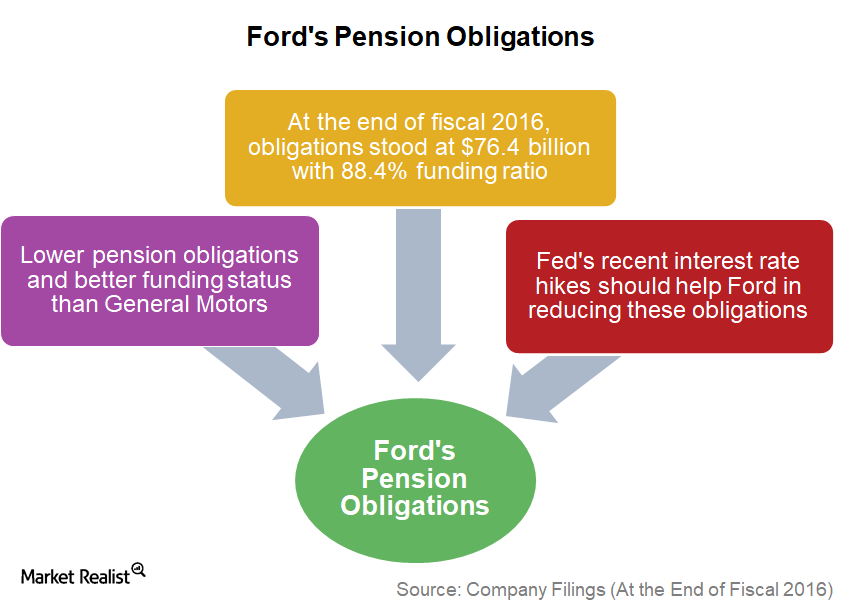 What Could Reduce Ford's Pension Obligations in 2018?
By Jitendra Parashar

Dec. 25 2017, Updated 7:31 a.m. ET
Ford Motor
Previously in this series, we saw how Ford Credit's overall performance in 2017 has been strong with a solid rise in its pre-tax profits. In the US auto industry, Ford (F) has the second-highest pension liabilities after General Motors (GM). In this part, we'll look at Ford's huge pension obligations. We'll discuss how the Fed's rate hike in December 2017 and possible rate hikes in 2018 could impact these pension obligations.
Article continues below advertisement
Pension obligations
At the end of fiscal 2016, Ford's global pension obligations stood at $76.4 billion. The company was underfunded by $8.9 billion with a funding status of 88.4%.
General Motors, Ford's direct peer (IYK), reported a burden of $92.9 billion in pension obligations. Its funding status was 80.3%—much worse than Ford.
Ford has contributed ~$14.4 billion to its pension funds in the last seven years. It's the main reason why the company has a better-funded status than General Motors.
It's important for investors to look at these automakers' pension funding status because a high funding status can lower the company's risk profile.
Impact of the Fed's interest rate hike
As we noted earlier in this series, the Fed decided to hike interest rates by 25 basis points in December 2017. The rate hike should have a positive impact on Ford's pension obligations because interest rates have a direct influence on the discount rates.
According to Ford's own estimates at the end of fiscal 2016, a 1.0% rise in discount rates would decrease its US pension obligation by $4.7 billion. We can expect a sizable fall in Ford's pension liabilities after the recent rate hikes. The Fed's indication of being open to more rate hikes in 2018 could also be a positive factor regarding Ford's pension obligations.
As of December 31, 2016, Ford's funding ratio was better than several other large US companies like Intel (INTC) and Delta Air Lines (DAL). Intel's funding ratio was at 46.6%, while Delta had a funding ratio of 49.4% at the end of 2016.
In the next part, we'll discuss key developments related to Ford that took place in 2017.