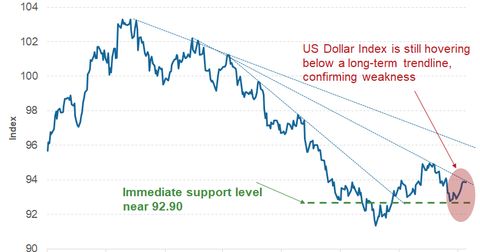 Recent Trend in the US Dollar Could Favor US Auto Companies
By Jitendra Parashar

Updated
US auto sales
Previously in this series, we looked at recent trends in US consumer sentiment and employment conditions. Despite the minor fall in preliminary consumer sentiment data for December, continued employment growth could be a positive indication for autos. In a high capital-intensive industry like autos, it's critical for auto companies to protect their profitability.
Now, let's explore a key factor that had an impact on US automakers' profitability.
Article continues below advertisement
US Dollar Index 
As of December 11, the US Dollar Index was trading at 93.95 with an 8.1% fall in 2017. On January 3, 2017, the US Dollar Index posted its highest level since 2003 near 103.82. Since then, it has lost ~9.5%. In contrast, the index has risen 0.9% in 4Q17.
In the above chart, you can see that there's overall weakness in the US Dollar Index. Technically, an immediate support lies near 92.90. For the relative strength index, the 14-day setup was hovering at 54.7, which suggests minor strength in the underlying momentum.
Note that the US Dollar Index represents the value of the US currency against a basket of other prominent currencies across the world. Weakness in the US Dollar Index means that the US dollar is losing its value compared to other currencies and vice versa.
Is it good for US automakers?
Recent weakness in the US dollar's value could be positive for US-based automakers' (VCR) international businesses. These US automakers include General Motors (GM), Ford (F), and Tesla Motors (TSLA). A weaker US dollar helps US companies be more competitive in the global markets and acts as a tailwind for their profitability from international markets. In contrast, the weaker US dollar usually acts as a headwind to US market profitability for Europe and Japan-based automakers like Fiat Chrysler (FCAU), Toyota (TM), and Honda (HMC).
In the next part, we'll discuss how rising oil prices could impact the auto industry going forward.