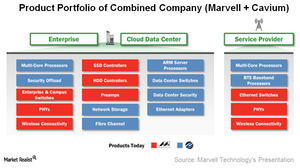 The Reason for Marvell's Acquisition of Cavium
Marvell to acquire Cavium 
The semiconductor industry continues to see consolidation as the world witnesses the fourth technology shift toward the IoT (Internet-of-Things) and AI (artificial intelligence), which is leading to the emergence of comprehensive chip solutions. One of the recent acquisitions on these lines is Marvell Technology's (MRVL) acquisition of Cavium (CAVM).
At the end of November, Marvell announced its agreement to acquire Cavium for $6 billion. The deal value per share for Cavium at $80, an 11% premium from its previous close before the deal was announced. The deal was approved by the boards of both companies. Now it's subject to regulatory and shareholder approval. Marvell expects to secure all the approvals and close the deal by mid-2018.
Article continues below advertisement
Funding the deal
Marvell would pay $80 per Cavium share, $40 in cash, and 2.1757 Marvell shares, which would give Cavium's shareholders more than a 25% stake in the combined entity. Marvell would fund the cash component of the deal by raising $1.75 billion in new debt, using $1 billion from its cash reserve and some portion of its $500 million revolving credit facility.
Benefits of the acquisition
The two companies have a complementary portfolio. Marvell offers storage devices and controllers, ethernet switches, and wireless connectivity, whereas Cavium offers multi-core data center processors, data center switches, and storage connectivity. The two companies don't have much overlap in customer bases and addressable markets, enabling Marvell to broaden its offerings and expand its total addressable market from over $8 billion to over $16 billion.
The combined company's portfolio would help it compete better in the data center market, which is dominated by Intel (INTC), Qualcomm (QCOM), and Broadcom (AVGO).
The data center market is becoming increasingly important as we move toward the IoT and AI. Qualcomm entered this market with its ARM-based Centriq 2400 server microprocessor in 2017. The Cavium acquisition would mark Marvell's entry into the server microprocessor market.
The complementary portfolio and similar customer base would halve Marvell's marketing and R&D (research and development) efforts and bring significant revenues, margins, and profit growth for the combined company. We'll look into these synergies in detail in the next part of this series.