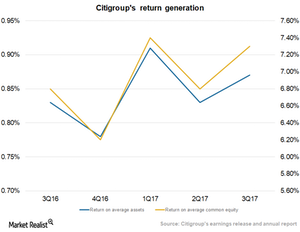 How Rate Hikes Could Impact Citigroup in 2018
2018 interest rate target
The Federal Reserve increased the interest rate in December 2017 by 25 basis points, to 1.25%–1.5%. The rate hikes have helped banks, widening net interest margins on short-term rate investments and a liability mismatch. The Fed has forecast at least three rate hikes in 2018 in order to reverse easing as well as give strength to its monetary policy amid strong economic growth.
European and Japanese central banks have also decided to roll back their monetary and fiscal policies in 2018. A regional rate hike would bode well for US commercial banks since currently European banks have lower rates and are proving to be competitive.
However, long rates would normalize around 2.5%–3% compared to ~5% prior to 2007.
Article continues below advertisement
Credit offtake to dampen
Credit offtake has slowed marginally, as seen in lower leverage, early repayments, and route of equity markets for fund raising due to attractive valuations. With corporate tax rate cuts soon to be implemented, corporations' cash flows could rise, which could result in prepayments of existing loans.
As the Fed targets higher interest rates, credit offtake could be further dampened, partially offset by the Trump administration's push for domestic manufacturing. Commercial bankers (XLF) might have difficulty raising corporate lending above 1%–2%. JPMorgan (JPM), Bank of America (BAC), and Citigroup (C) are targeting retail and credit card lending.
Goldman Sachs (GS) is focusing on trading and investment banking activities. Banks with a global presence could manage credit growth outside the United States in 2018 in order to offset slowing domestic growth.