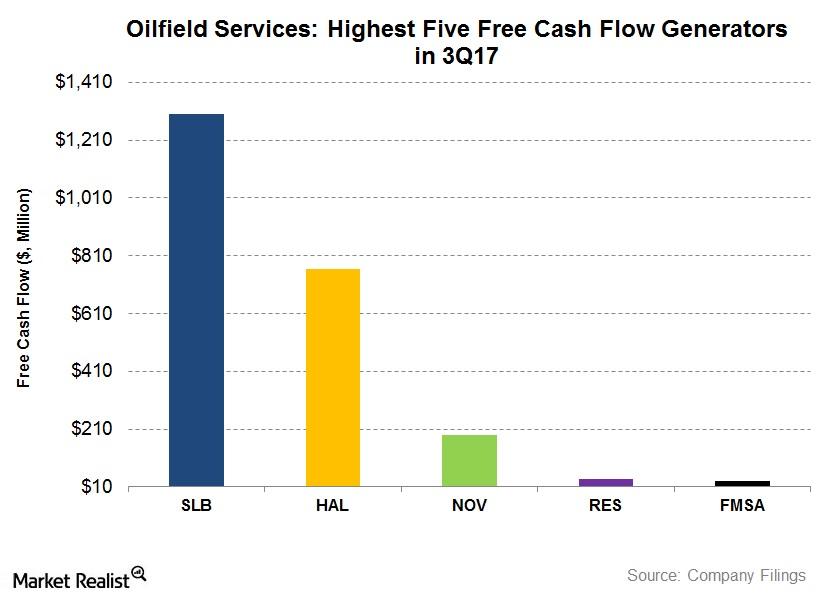 Ranking the Top 5 Oilfield Companies by Free Cash Flow
OFS companies' free cash flow
Article continues below advertisement
Top five OFS companies
Schlumberger (SLB) saw the highest free cash flow in the OFS industry, as we'll discuss. Schlumberger is also the largest-market-cap OFS company with operations worldwide. Its segments include the Reservoir Characterization Group, Drilling Group, Production Group, and Cameron Group.
Halliburton (HAL), the second-largest-market-cap OFS company, ranks second in terms of free cash flow generation in 3Q17. National Oilwell Varco (NOV), which designs, manufactures, and sells equipment and components, comes third in the FCF ranking of the OFS companies. NOV is 0.06% of the SPDR S&P 500 ETF (SPY). SPY increased 18% in the past year versus a 13% fall in NOV's stock price, a 15% fall in HAL, and a 25% decline in SLB's stock price during the same period.
Although RPC (RES) and Fairmount Santrol Holdings (FMSA) feature in the top five list of OFS generation in the OFS industry, their FCF generations were marginally positive in 3Q17, which shows the sheer weakness in the industry. RES ranks fourth, and FMSA ranks fifth.
Why did cash flow vary?
On September 29, the West Texas Intermediate (or WTI) crude oil price recovered ~12% compared to June 30 while the US rig count remained unchanged over the same period. OFS companies' revenues and profitability can improve when the upstream companies' drilling and production pick up, although it will also depend on the business model of the OFS companies. Increased upstream activity typically positively affects OFS companies supplying products and services to the upstream companies. Since September 29, the WTI crude oil price has recovered 11% further, which could signal improved cash flows in 4Q17 for the OFS industry.
However, the OFS industry's services and equipment continue to remain in oversupply, which has kept their earnings under pressure. So returns, except a handful, haven't kept up with crude prices and the broad market's returns. Learn more about the top OFS companies in Market Realist's Top 5 OFS Companies Based on 2017 Returns.
Next, we'll analyze Schlumberger's free cash flow and capex.