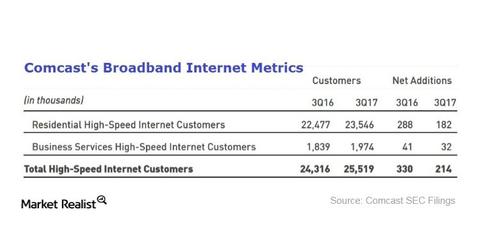 Putting Comcast's Internet Speed Upgrade in Perspective
By Ruchi Gupta

Updated
Gigabit speed Internet for business
Comcast (CMCSA) recently announced the expansion of its DOCSIS 3.1-based Internet service to more footprint regions across the US (SPY). The company announced the rollout of the service to states such as California, Colorado, Washington, and Missouri.
DOCSIS 3.1-based Internet service is part of the broadband service offered by Comcast under its Business Services segment. In the DOCSIS 3.1-based Internet service, Comcast provides broadband plans known as Business Internet 1 Gig and Business Internet 500 to business customers in need of gigabit-speed Internet connections.
Article continues below advertisement
What's behind Comcast's Internet speed upgrade?
Comcast's broadband speed upgrade could be interpreted in two ways. The company could be boosting Internet speeds for its customers as part of stemming competition. AT&T (T), for example, has been expanding its fiber-based Internet service in Comcast's regions, increasing competition for high-speed Internet customers.
The other potential reason behind Comcast's Internet speed upgrade could be tied to the company's ambitions in the online video services market. The rise of online video services such as Netflix (NFLX), Hulu, and Amazon (AMZN) Prime Video has increased demand for high-speed Internet. Broadband providers like Comcast are trying to win more Internet customers to offset weaknesses in their video businesses.
Broadband revenues up 8.9%
In 3Q17, Comcast gained 214,000 new broadband subscribers, which helped the company grow its broadband revenues 8.9% year-over-year to more than $3.7 billion. The company lost 125,000 pay-TV customers in the quarter mostly due to disruptions from online video services that are leading consumers to cut the cord. Charter Communications (CHTR) and AT&T also reported losses of pay-TV subscribers in 3Q17.