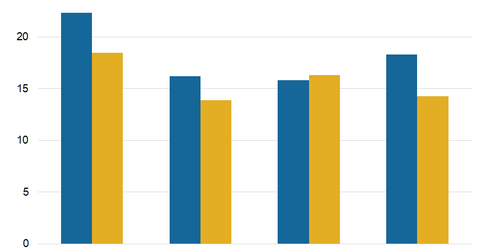 How Premium Are BlackRock's Premium Valuations Going into 2018?
By Robert Karr

Updated
Valuations amid stable expectations
BlackRock's (BLK) outperformance, estimate beats, and new assets have helped the company command premium valuations. It gained market share in ETFs against rivals Vanguard and State Street (STT) over the past couple of quarters. It's now trading at a forward PE (price-to-earnings) ratio of 19.7x, compared with the industry average of 15.2x.
Overall, BlackRock's valuations have risen in recent months, mainly due to an expectation of continued flows across its active and passive strategies and better operating performance in 4Q17 as well as 2018.
The company's peers are trading at the following forward PE ratios:
Together, these companies make up 4.5% of the Vanguard Financials ETF (VFH).
In 4Q17, BlackRock is expected to see higher traction in equities on a sequential basis across ETFs, index funds, and active offerings. Debt funds might see lower traction due to higher rate expectations.
Article continues below advertisement
Performance of various funds
BlackRock garnered $2.8 billion in investment advisory fees, a rise of 9% on a year-over-year basis, helped by the strong performances of various offerings as well as rising broad markets (SPY). The company's performance fees stood at $191 million on active fund offerings. It's investing heavily in autobots, algo (algorithmic) trading, and artificial intelligence–based platforms to beat the index and average market returns. The company has attracted funds for these offerings as investors seek new ways to generate higher returns.
On a one-year basis, BlackRock's scientific active equity and active taxable fixed income outperformed the benchmark by 86% and 78%, respectively. The numbers stood at 89% and 78%, respectively, for a three-year period.