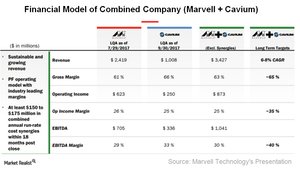 Potential Synergies of the Marvell-Cavium Deal
Combined company's financial model
Marvell Technology (MRVL) is acquiring Cavium (CAVM) to expand in the data center and networking space. The combined company's complementary portfolio would mean several costs and revenue synergies and expanded growth opportunities.
Even before accounting for synergies, the acquisition would be immediately accretive to Marvell's earnings. The combination would create a company that earns a 25% non-GAAP (generally accepted accounting principles) operating margin on $3.4 billion annual revenue. The combined company would have a non-GAAP gross margin of 63% and EBITDA (earnings before interest, tax, depreciation, and amortization) margin of 30%.
Article continues below advertisement
Synergies from the Marvell-Cavium acquisition
The combination of Marvell and Cavium would mean annual cost savings of $150 million to $175 million in 18 months after the completion of the acquisition. The acquisition of Cavium would increase the scale and volume of production, improving efficiency and reducing the cost of goods sold. It would also bring in around 25% of the $150 million annual cost savings.
The remaining savings would come from a reduction in operating expenses. Both companies have major sites at the same locations. The consolidation of these sites would save administrative costs. As both companies have complementary products and operate in common areas, they can rationalize their R&D (research and development) expenses and combine their product roadmap, improving returns on investment.
The acquisition would also mean revenue synergies in the long term as the combined portfolio would be better positioned to compete in the data center and cloud market.
Combined company better positioned in the data center market
The technology shift toward the IoT (Internet-of-Things) and AI (artificial intelligence) is moving computing paradigms from a centralized x86 based processor to a heterogeneous processor, network, and storage that can work seamlessly at the edge. This shift presents an opportunity for Marvell and Cavium.
The combined company would earn only 10% of its annual revenue from the cloud and data center market, but the contribution would increase since it's a fast-growing business. Marvell's cloud and data center business is growing at an annual rate of 5% to 6%. The addition of Cavium would accelerate the growth to high single digits, making it on par with Intel's (INTC) data center business growth rate. How would this happen?
Cavium has been trying to make an ARM-based server microprocessor that can compete with Intel's x86-based server processor. Cavium won an order for its ARM-based processors from Microsoft's (MSFT) Azure cloud platform in 2017.
The combined Marvell-Cavium company would be better positioned to compete with Intel as it can bundle all its offering in a platform and sell the whole thing. Intel is currently using this strategy. It helps increase a company's dollar content per chip, boosting revenue.
Like Cavium, Advanced Micro Devices (AMD) also tried to make ARM-based server processors but failed. Qualcomm (QCOM) is a new entry in the ARM-based server processor space and is believed to be a better competitor with Intel.
Next, we'll see how the Cavium acquisition would change the combined company's business structure.