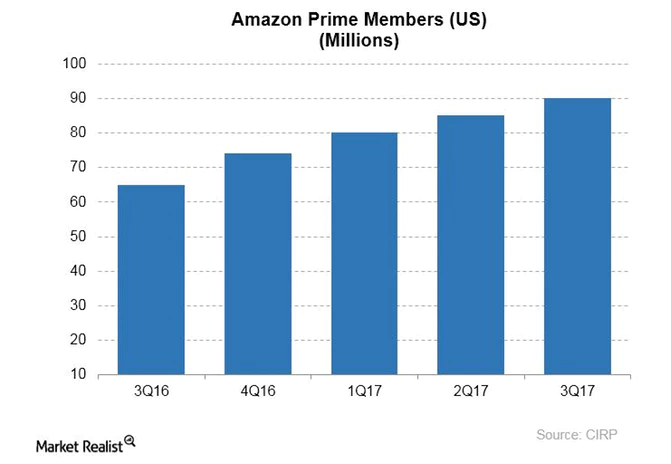 Popular Games among eSports Viewers
By Adam Rogers

Dec. 11 2017, Updated 2:29 a.m. ET
League of Legends watched for 37.3 million hours
According to market research firm Newzoo, Riot Games' League of Legends was the most watched game on Amazon's (AMZN) Twitch in October 2017. The game was watched for a total of 94.3 million hours, while 37.3 million were eSports hours. The other top games that were viewed extensively include Counter Strike: Global Offensive, Dota 2, and Activision Blizzard's (ATVI) Hearthstone. They clocked in 15.5 million, 14.6 million, and 6.4 million in eSports hours, respectively.
In the previous part of this series, we saw that Newzoo expects the eSports market to rise by $1.5 billion–$2.4 billion by 2020. The eSports market is expected to reach $700 million by the end of 2017.
Article continues below advertisement
Activision Blizzard launched Overwatch
Activision (ATVI) Blizzard's Overwatch was one of the most popular games on Twitch. It logged in 1.3 million eSports hours during October 2017. Activision's Overwatch league will launch on January 10, 2018. It has sponsorship deals from Intel (INTC) and Hewlett-Packard (HPQ).
Overwatch is one of Activision Blizzard's most successful games. It has generated over $1 billion in revenue to date. First movers in the eSports segment like Activision Blizzard and Tencent (TCEHY) will likely benefit from a rapidly growing market. Twitch is also one of Activision's broadcasting partners for Overwatch and other leagues.
Twitch can live-stream several eSports events hosted by Activision. A two-year contract allows Twitch to live-stream over 20 eSports competitions including popular titles like Overwatch, Hearthstone, and StarCraft.