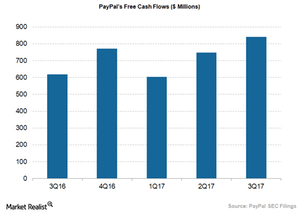 PayPal Lightens Portfolio by Offloading US Credit Assets
PayPal sells credit assets
PayPal (PYPL) is seeking to sell $5.8 billion of its US credit assets to Synchrony Financial (SYF) to reduce its credit burden and increase its cash liquidity. Synchrony will buy participation interests worth $1 billion in PayPal receivables, which will allow PayPal to continue to provide consumer credit products without taking on credit exposure. The payment processing company expects the deal to close in 3Q18.
Article continues below advertisement
Deal will free up PayPal's cash
PayPal and Synchrony Bank have been working together since 2004 to offer PayPal-branded consumer credit card options to consumers. As part of the extended credit deal, Synchrony Bank will exclusively issue PayPal's online consumer financing in the United States (SPY) for ten years, implying that Synchrony will finance future loans to online shoppers, which PayPal used to fund. PayPal has been focusing on expanding its digital payment services through strategic partnerships and acquisitions since its spin-off from online marketplace eBay (EBAY) in 2015.
PayPal raises guidance
After de-risking its balance sheet, PayPal will be able to reinvest in the business, make acquisitions, and return value to shareholders through stock buybacks. The removal of credit risk might boost PayPal's profit, and Synchrony expects the deal to add to its 2019 profits.
PayPal has raised its 4Q17 revenue and EPS (earnings per share) guidance. The company now anticipates revenue of $3.64 billion–$3.70 billion, up from $3.57 billion–$3.63 billion, and EPS of $0.52–$0.59, up from $0.37–$0.39.