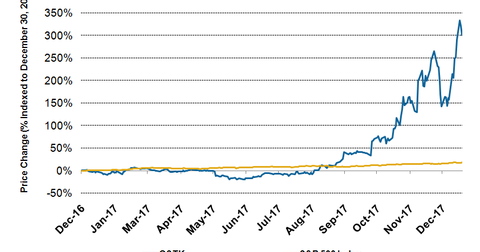 Overstock in Focus as Bitcoin Grabs Spotlight
By Victoria Dean

Updated
Overstock surges to new highs
For Overstock (OSTK), 2017 has been an important year. The company's stock price witnessed massive growth as the world went bonkers for bitcoin and other cryptocurrencies. Overstock, an Internet retailer, was one of the first companies to accept bitcoin as payment in 2014. As of December 20, 2017, the stock had risen 299.7% this year, whereas the S&P 500 had risen 19.7%. Overstock is currently the top holding of the SPDR S&P Retail ETF (XRT) which had gained 2.6% this year as of December 20, 2017.
Bitcoin buzz to grow louder
Cryptocurrency has emerged as the biggest trade in 2017 and has generated amazing gains for investors. Cryptocurrency is a digital currency that deploys cryptography to ensure secure peer-to-peer payments and eradicates the need for intermediaries. It is totally decentralized.
According to Coindesk, bitcoin, the best-known cryptocurrency, touched an all-time high of $19,783 on December 17, 2017. As of December 21, 2017, bitcoin had generated a return of over 1,500% this year. However, bitcoin is highly volatile. It was trading at $12,694 as of December 22, 2017, based on Coindesk data.
Bitcoin's popularity (as well as other cryptocurrencies') is driven by its potential as a safe and cheap payment mode and the budding blockchain technology that powers these transactions. Its acceptance as a payment method has been gaining traction as major companies such as Microsoft (MSFT) and Zynga (ZNGA) embrace it. Microsoft accepts bitcoin for purchasing apps, movies, and games on Xbox One and Microsoft Store, while Zynga accepts it for in-app purchases of games. The bitcoin buzz is set to grow louder despite warnings from analysts, banks, and a host of financial regulatory bodies, including the SEC (US Securities and Exchange Commission), about an impending crash.
Bitcoin recently made a foray into the derivatives market with listings by Cboe Global Markets and CME Group on December 10, 2017, and December 18, 2017, respectively. Being listed on well-known futures exchanges should offer some legitimacy to these assets.
Overstock eyes blockchain technology
Overstock has seen massive developments in the past few days as far as blockchain initiatives are concerned. In this series, we'll discuss Bitt's blockchain mobile wallet and Overstock's blowout ICO (initial coin offering). Following that, we'll discuss CEO Patrick Byrne's property rights blockchain initiative and the company's collaboration with Siebert Financial to offer discounted online trading services. Lastly, we'll have a look at Overstock's financial performance.