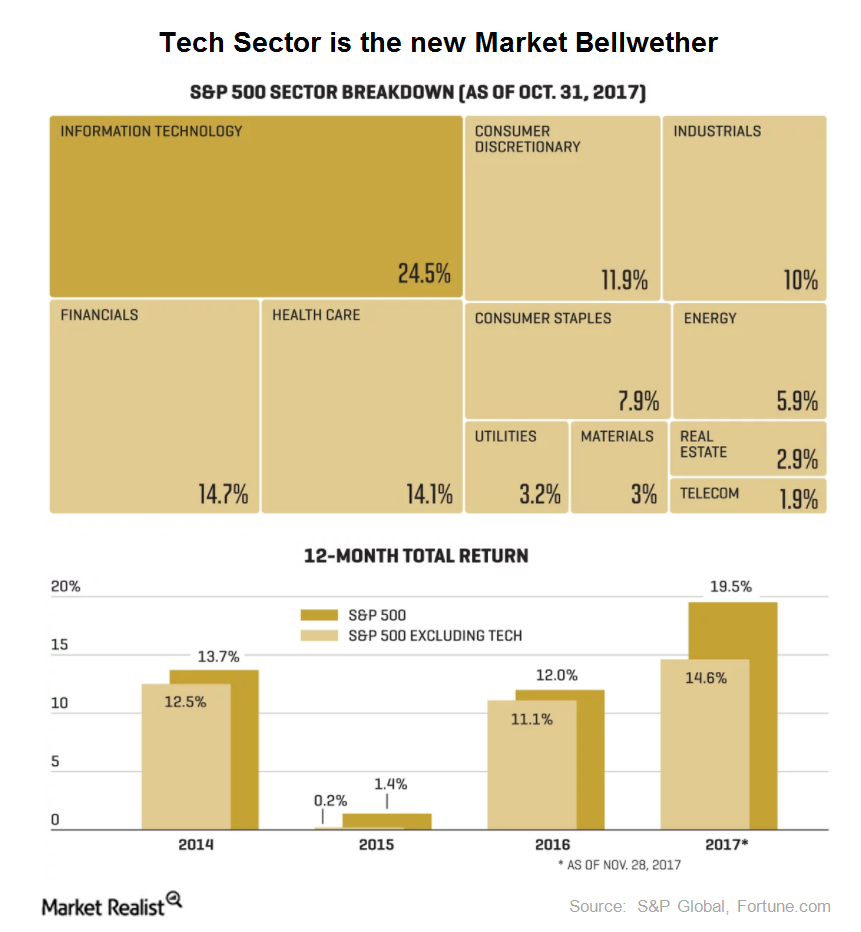 How Oracle and Peers Contributed to the S&P 500's Performance in 2017
By Anne Shields

Dec. 4 2020, Updated 10:53 a.m. ET
Tech sector pushed the S&P 500 rally in 2017
As seen in its partnership with Symantec (SYMC), Oracle (ORCL) is a key player in the tech sector, which is dominated by cloud computing technology, and has been in the news for the past couple of years. As a result, S&P 500 Index, which is now dominated by tech, also saw a surge in 2017. Tech stocks make up ~25% of the S&P 500 Index—the largest contribution from any single sector.
Apple (AAPL), Amazon.com (AMZN), Facebook (FB), Alphabet (GOOG), Microsoft (MSFT), and Oracle (ORCL) dominate this market-cap-weighted index. The S&P 500 Index (VOO) returned 19.5% in 2017 through November. Without tech, this return would have been 14.5%.

Article continues below advertisement
Tech sector's contribution in S&P rise
Tech's contribution to the S&P 500's rise has reached one of its highs this year, when compared with the past three years.
Amazon, Microsoft, and Google, which were significantly responsible for this surge in the index and collectively control more than half of the cloud space, a subsegment driving the overall IT (information technology) space right now. Amazon, an undisputed leader in the cloud space, continues to have a market share in the space "bigger than its next five largest competitors combined," according to a Synergy Research report.
Amazon has seen its stock surge more than 400% in the past five years. Microsoft, Apple, Google, and Facebook stocks have surged ~218%, ~122%, 206%, and ~551%, respectively, during the same period. Notably, Amazon has reported profits for the past ten quarters.