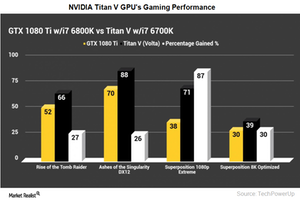 How NVIDIA's Titan V GPU Has Performed in Gaming
By Puja Tayal

Dec. 22 2017, Updated 4:04 p.m. ET
NVIDIA and gaming
In the previous part of the series, we discussed how NVIDIA (NVDA) has launched a Volta-based Titan GPU (graphics processing unit), but not for gamers. This time, its Titan GPU is aimed at AI (artificial intelligence) researchers and scientists.
Although the Titan V is open to the general public, the $3,000 price tag makes it unaffordable for mainstream users and even gamers. This has made the rumors about Volta not coming to gaming more believable.
However, NVIDIA's consumer-grade GPUs are popular in the PC (personal computer) gaming space. Third-party reviewers have tested the Titan V for its gaming performance in order to get an idea of how the Volta-based GeForce cards for gaming would look.
Article continues below advertisement
Gaming performance of NVIDIA's Titan V
The Titan V has remarkable computing and memory, but most of its features go toward gaming. Although the Titan V is nine times faster than the Titan XP, the former is largely underutilized in gaming and that is visible from third-party test results.
The Titan V and the GTX 1080 Ti FE (founders edition) were tested on the Futuremark 3DMark benchmarking software, but the Titan V only delivered a 15%–20% performance improvement across the DX11, DX12, and Vulkan APIs (application programming interface). After increasing shaders, the card's performance peaked at 35%–40%.
In some cases, the Titan V contends, and in some, it loses with the GTX 1080 Ti. In the Caseking KingMod, the Titan V fell behind the GTX 1080 Ti FE under 3DMark's Fire Strike Extreme preset, but it topped under the Fire Strike Ultra.
The Titan V showed significant in-game performance improvements when pushed to 4K resolution, as its performance range is greater between its average and peak FPS. It peaked at 24 FPS (frames per second)—higher in Star Wars Battlefront II and 11 FPS higher in PUBG, when compared with the GTX 1080 Ti FE.
NVIDIA's Pascal-based GeForce cards doing well
It's still unknown if NVIDIA will launch Volta GPUs on the GeForce platform, as its Pascal-based GeForce 10x series offerings are doing pretty well. According to Jon Peddie Research, NVIDIA's discrete GPU shipments rose 29.5% sequentially in calendar 3Q17. Its GPU market share increased by three percentage points from 16.3% in 2Q17 to 19.3% in 3Q17.
In November, NVIDIA extended its Pascal-based gaming product family with the launch of its GeForce GTX 1070 Ti. This card was the company's response to Advanced Micro Devices' (AMD) Vega cards. In the same month, NVIDIA also released the Maxwell-based mobile GPUs—GeForce MX130 and MX110—for low-end mainstream consumers. This launch comes after AMD launched its Ryzen Mobile APUs (application processing units).
It's clear now that the Titan V doesn't deliver a significant performance boost in gaming, though it does deliver a significant performance boost in cryptocurrency mining. Next, we'll look at the Titan V's mining performance.