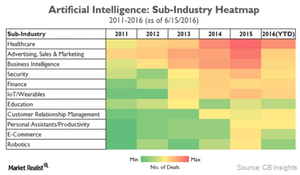 How NVIDIA Plans to Tap the AI Healthcare Market
By Puja Tayal

Dec. 27 2017, Updated 10:30 a.m. ET
NVIDIA eyes AI applications in healthcare
NVIDIA (NVDA) has been working with 1,200 startups on identifying verticals where AI (artificial intelligence) can make a significant difference. Until now, we've discussed how NVIDIA has been using its GPU (graphics processing unit) technology in autonomous driving and autonomous machinery. It's also testing AI application in city management and surveillance to improve law enforcement and compliance.
Article continues below advertisement
AI is a technology that reduces costs, enhances productivity, and increases safety by analyzing data and acting upon it. Healthcare is one segment that generates tons of data, but not all of that data is analyzed. An average hospital annually generates around 50 petabytes of data, of which only a small percentage is analyzed. If all this data were analyzed and acted upon, it's believed that many lives could be saved.
NVIDIA-GE collaborate in image diagnosis
NVIDIA is looking to do just that. It has extended its ten-year partnership with General Electric Healthcare (GE) to bring sophisticated AI technology to the latter's imaging devices to accelerate detection of anomalies and facilitate earlier diagnosis, thereby improving patient care.
At the RSNA (Radiological Society of North America) meeting, GE announced its new CAT scan system, Revolution Frontier CT, which processes images at half the time of its predecessor, thanks to NVIDIA's AI computing platform. GE also announced NVIDIA GPU-powered Vivid E95 4D Ultrasound System, which visualizes and quantifies blood flow faster and more accurately while streamlining workflows across the cSound imaging platform.
NVIDIA also plans to support GE Healthcare's new Applied Intelligence analytics platform. The platform would use NVIDIA's GPU, a CUDA-parallel computing platform, and NVIDIA GPU Cloud container registry to create deep-learning algorithms and then deploy and consume them in new healthcare analytic applications. These applications would be integrated into clinical and operational workflows and equipment, thereby improving overall patient care.
NVIDIA also plans to partner with other medical equipment manufacturers and healthcare companies to expand the reach of its AI healthcare solutions. Accenture expects the AI health market to grow at a CAGR (compound annual growth rate) of 40% by 2021.
Overall, there appear to be many future growth drivers for NVIDIA in the long term, but the company will likely face big competition from other chip giants. It has the lead in AI technology now, but what remains to be seen is if it can continue to dominate the market going forward.