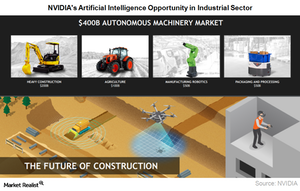 Why NVIDIA Is Exploring the Applications of AI-Enabled Drones
By Puja Tayal

Dec. 27 2017, Updated 9:00 a.m. ET
NVIDIA brings AI to autonomous machinery
At the 2017 GPU (graphics processing unit) Technology Conference, NVIDIA's (NVDA) chief executive, Jensen Huang, talked about the future of AI (artificial intelligence) in autonomous intelligent machines—and the $400-billion opportunity that this could bring.
The company's GPU technology is being adopted by drones for various applications. Gartner stated that the global civil drone market grew ~36% in 2016 and is expected to grow big over the next ten years, presenting a strong growth opportunity for NVIDIA.
In December 2017, NVIDIA announced its partnership with Japanese (EWJ) construction and mining equipment manufacturer Komatsu to make construction sites more safe and efficient.
Article continues below advertisement
The NVIDIA-Komatsu partnership in construction
Komatsu is extending its Smart Construction initiative, which it rolled out in more than 4,000 sites across Japan in 2015. NVIDIA will now help Komatsu in this initiative. Komatsu plans to create a 3D real-time visual of construction sites that shows a real-time interaction of people, machinery, and objects.
Komatsu plans to use SkyCatch's drones to collect 3D images and OPTiM's IoT (Internet of Things) management application to identify individuals and machinery from 3D images collected by the drones. The core of this smart construction would be NVDIA's Jetson AI platform for edge computing. Below are a few details:
Jetson GPUs will be installed inside heavy machinery on site to closely monitor these machines and improve safety and productivity.
Jetson will be installed inside cameras mounted on construction equipment to provide a 360-degree view of the outside environment and prevent collisions and other accidents.
Jetson will be installed in stereo cameras inside the cabs of construction machines to get a real-time view of the rapidly changing conditions and instruct the driver accordingly.
NVIDIA also plans to provide an AI platform that can communicate with all these cameras and drones to collect data and prepare a 3D visual of the construction site and analyze the happenings real-time. In the future, NVIDIA plans to extend this model to include a high-resolution rendering and virtual simulations of construction and mining sites where machines have automated control.
NVIDIA supports vehicle occupancy detection on highways
NVIDIA's GPUs are powering Chinese e-commerce giant JD.com's drone delivery initiative as well as General Electric's (GE) Avitas Systems' drone industrial inspections. In November 2017, NVIDIA participated in another GPU-powered drone application.
NVIDIA, IBM (IBM), the University of Toronto, and Canadian drone maker the Sky Guys are all working on an AI-enabled drone system to monitor highways for compliance with HOV-HOT (high-occupancy vehicle, high-occupancy toll lane regulations). This technology should help boost compliance levels and toll revenues while reducing the cost of law enforcement.
In the next and final part of this series, we'll discuss NVIDIA's use of AI applications in healthcare.