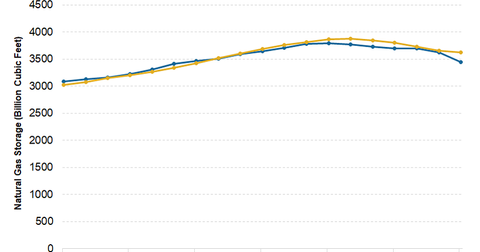 Natural Gas Inventory Remains below the 5-Year Average
By Alexis Tate

Updated
Natural gas inventory
Inventories usually drive commodity prices. In this part, we'll discuss the natural gas inventory for the week ending December 15, 2017. In this series, we'll analyze how the natural gas inventory influences natural gas prices and coal's price. The quantity of natural gas stored in underground spaces is estimated by the EIA (U.S. Energy Information Administration) on a weekly basis.
For the week ending December 15, the EIA estimated the natural gas inventory to be 3,444 Bcf (billion cubic feet). The stockpile figure is nearly 5% below the inventory of 3,626 Bcf declared for the week ending December 8. It denotes that natural gas stock has fallen by 182 Bcf on a week-over-week basis.
The natural gas stockpile has fallen on a year-over-year basis as well. It has fallen ~5.0% under the inventory level of 3,627 Bcf that was recorded during the same week in 2016.
Article continues below advertisement
Impact
During the winter, the demand for natural gas increases in the US. In previous weeks, the supply continued to be below the five-year average. The inventory was 0.7% and 2.4% under the five-year average for the weeks ending December 8 and December 15, respectively. If US natural gas storage exceeds the five-year average, natural gas prices get pressured.
Utility companies like Consolidated Edison (ED) and Dominion Energy (D) might choose coal instead of natural gas if natural gas prices are high.
It could help notable coal (KOL) mining companies like Alliance Resource Partners (ARLP), Cloud Peak Energy (CLD), and Westmoreland Coal (WLB) increase their profits.
Next, we'll look at recent natural gas prices.