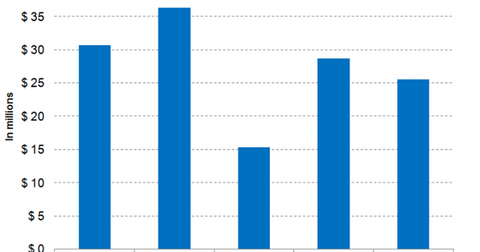 Chart in Focus: Novavax's Financial Position in 2017
By Kenneth Smith

Aug. 18 2020, Updated 10:17 a.m. ET
Revenues
Novavax (NVAX) generated revenues of $8.4 million in 3Q17 compared with $3.2 million in 3Q16. The 158.0% increase in revenues is attributable to an increase in enrollment of participants for the Prepare trial. This is a sponsored trial by the Bill & Melinda Gates Foundation, and Novavax receives milestone payments on successive stages of the trial.
In 2016, 2015, and 2014, Novavax generated revenues of $15.4 million, $36.3 million, and $30.7 million, respectively. Novavax generates part of its revenues from government contracts. Of the total revenues earned in 2016, ~$2.0 million came from government contracts and ~$13.0 million came from R&D collaborations.
Novavax's net losses for 2016, 2015, and 2014 were $280.0 million, ~$157.0 million, and $83.0 million, respectively.
Wall Street analysts expect the company to earn revenues of $28.7 million for fiscal 2017. Peers GlaxoSmithKline (GSK), AstraZeneca (AZN), and Sanofi (SNY) are expected to report revenues of 30.0 billion pounds, $21.8 billion, and $41.5 billion, respectively, for fiscal 2017.
Article continues below advertisement
R&D expenses
For 3Q17, Novavax incurred R&D expenses of ~$41.8 million compared with ~$53 million for 3Q16. This year-over-year (or YoY) decrease of 21.0% was due to lower costs of the RSV F vaccine for older adults.
The company expects a substantial decrease in R&D expenses in 2017 compared with 2016 due to lower RSV F vaccine candidate clinical trial costs and lower employee costs. At the end of September 2017, the number of employees in R&D activities totaled 298 compared with 468 employees at the end of September 2016.
SG&A expenses
In 3Q17, SG&A (selling, general, and administrative) expenses witnessed a YoY decrease of 40.0% to $8.0 million from $13.6 million in 3Q16. This decrease was mostly due to lower employee costs.
At the end of September 2017, the number of employees in SG&A activities totaled 50 compared to 71 employees at the end of September 2016. The company expects to incur lower SG&A expenses in 2017 compared to 2016 due to the reduced headcount.
Novavax comprises ~0.03% of the iShares Russell 2000 Value ETF's (IWN) total portfolio holdings.
In the final part of this series, we'll consider the key risks facing Novavax.