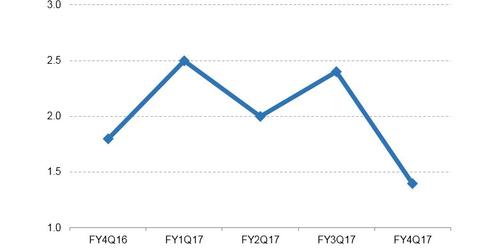 What to Make of the Disney–Altice Agreement
By Ruchi Gupta

Updated
Disney reached multiyear agreement with Altice
After a period of contentious and closely watched negotiations, Walt Disney (DIS) and Altice USA (ATUS) finally reached a multiyear programming agreement. For Altice, the deal allows it to keep ESPN.
It was feared that the loss of the popular sports channel could spark an exodus of Altice's pay-TV subscribers and deal the company a heavy blow at a time when pay-TV operators are already facing pressure from online video services.
Dish Network (DISH), Comcast (CMCSA), and Charter Communications (CHTR) said they lost 129,000, 125,000, and 104,000 pay-TV subscribers, respectively, in 3Q17. The losses were primarily attributed to the rise of online video services such as Hulu, Netflix (NFLX), and Amazon (AMZN) Prime Video.
Article continues below advertisement
Disney scored important goals
For Disney, the negotiations with Altice were largely viewed as a litmus test. In the next two years, Disney plans to renegotiate programming contracts with its pay-TV partners. As such, the talks with Altice were viewed as setting the tone for Disney's future negotiations.
If the outcome of the talks with Altice is any guide, it appears Disney has begun its programming contract renegotiations on a positive note. The company scored two important goals in its discussions with Altice.
First, sources told Reuters that Disney was able to persuade Altice to renew its programming contracts at higher prices—particularly major networks such as ESPN and ABC. Second, Disney persuaded Altice to pick up two more sports networks—the SEC Network and the upcoming ACC Network.
Media network profitability
Higher programming prices could help Disney to boost revenue growth and profitability in its Media Networks division. Disney could potentially raise funds quickly for its upcoming streaming video service to challenge Netflix. In fiscal 4Q17 (September quarter), the operating profit in Disney's Media Networks unit fell 12% year-over-year.