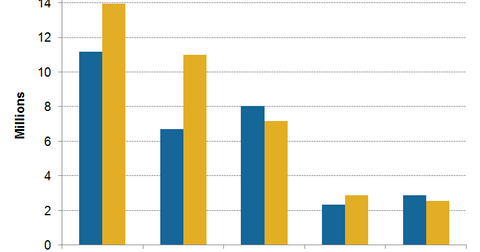 What Made Intel the Most-Traded Semi Stock This Year?
By Puja Tayal

Updated
Average trading volume
In the preceding part of this series, we saw how risk-averse investors generally buy stocks with large market capitalizations or market caps because it gives them the benefit of large companies and growth companies. Most large-cap stocks have high trading volumes, but it's not necessary that all highly traded stocks are large-cap stocks.
Highly traded stocks are volatile because volumes change when institutional investors change their holdings in a stock.
Article continues below advertisement
Trading volume is important for investors—especially traders—because this determines how liquid a stock is. Investors buy stocks with the hope that they can earn money when prices increase. If a stock is not traded much, it means that it doesn't have sufficient buyers to whom they can sell and liquidate their money.
Highly traded semiconductor stocks
As of December 22, 2017, Intel (INTC) was the highest-traded semi stock, with an average trading volume of 14 million, followed by Micron Technology (MU) at 11 million, Advanced Micro Devices (AMD) at 7.7 million, Applied Materials (AMAT) at 2.9 million, and NVIDIA (NVDA) at 2.6 million.
Article continues below advertisement
Intel and AMD
In September 2017, the same five stocks were on the list of highly traded semi stocks, but their position was different. Intel's trading volume rose 88% between September 12, 2017, and December 22, 2017, as its announcements in the AI (artificial intelligence) and automotive space and strong fiscal 3Q17 earnings and guidance increased investor confidence and sent the stock to its 16-year high.
This increasing interest of investors pushed Intel from the third position to the first position in the list of most-traded semiconductor stocks. Even AMD witnessed a 12% increase in trading volumes during the above time period. This growth was slower than in September 2017, pushing the stock from the second to the third position.
Micron and NVIDIA
Micron's and NVIDIA's trading volume fell 21% and 23%, respectively, during the above time period, as the strong growth in stock prices made investors cautious of buying the stock at such high prices. These stocks saw multiple corrections during 2017, but all returned to growth over time.
This pulled Micron down from the first position to the second position and pulled down NVIDIA from the fourth position to the fifth position between September and December 2017.
Applied Materials
Applied Materials saw a 13% fall in trading volume during the above time period, but its position in the list rose from the fifth to the fourth position.
Next, we'll look at the intensity of investor sentiment.