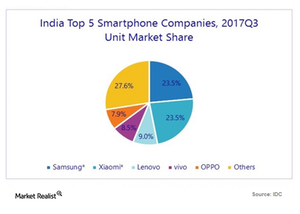 How India's Import Tax Hike Is Affecting Apple
By Sophia Nicholson

Dec. 29 2017, Updated 12:03 p.m. ET
India increases tax on imports
Apple (AAPL) iPhones have reportedly become more expensive in India (INDA) after the Indian government announced a hike in the import tax rate on mobile phones. India has increased its tax on imported items to curtail foreign products and encourage local production, according to Reuters. The customs duty on mobile phones and video cameras has risen from 10% to 15%, while it has risen 20% on televisions.
The move to hike import taxes was to restrain overseas products as a part of the Indian government's "Make in India" initiative started by Prime Minister Narendra Modi to promote products produced by domestic companies.
Article continues below advertisement
Apple raises prices of its phones in India
The increase in tax will severely impact mobile phone companies that are heavily dependent on imports. As a result, Apple aims to set up manufacturing and assembly facilities in India. However, it seems that India is unlikely to agree to Apple's terms.
With the exception of the iPhone SE model, Apple has increased prices of iPhone models by an average 3.5%, according to Reuters. Apple's iPhone SE models are assembled in southern India.
Why Apple is eying India
India is the world's second-largest mobile subscription market and is among the top three countries by annual smartphone sales. Around 750 million people in India own basic or feature phones. Nevertheless, the company is looking to grow in the smartphone category. Not only Apple, but Alphabet's (GOOGL) Google has also recently rolled out a new low-cost entry-level smartphone in India to tap the Indian market. Similarly, Facebook (FB) and its WhatsApp messenger services attract hundreds of millions of new Internet users.
According to the International Data Corporation (or IDC) report, Xiaomi and Samsung are the two leading smartphone brands in India with 23.5% market share each in the third quarter of 2017. Therefore, Apple is eyeing the India region to capture a bigger share of the smartphone market. Apple's share in the Indian smartphone market is reportedly less than 3% currently.