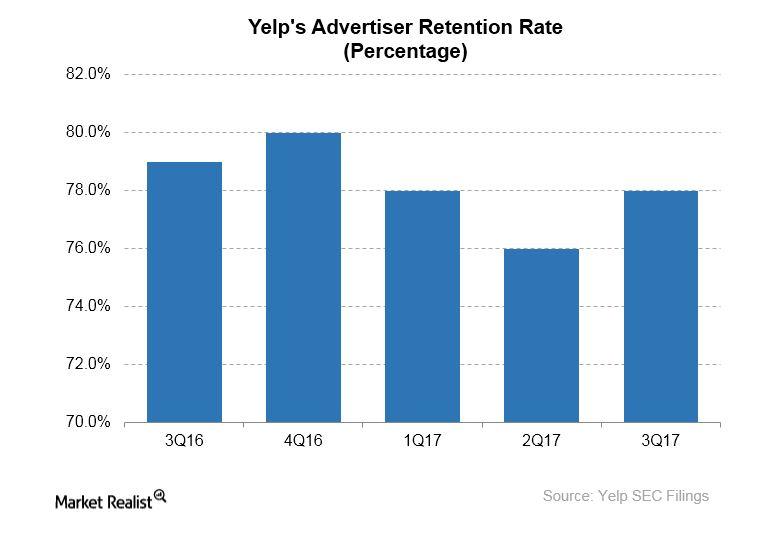 Assessing Yelp's Advertiser Retention
By Neha Gupta

Dec. 14 2017, Updated 3:20 p.m. ET
155 million advertising accounts
Given the tough competition for online advertising dollars, an analysis of a company's advertiser retention can offer important clues about its competitiveness.
Yelp (YELP) closed 3Q17 with 155 million paying advertising accounts, up from 148 million paying advertising accounts in 2Q17 and 132 million paying advertising accounts in 3Q16.
To Yelp, paying advertising accounts are business accounts that purchased an advertisement on its platform in a given three-month period. Paying advertising accounts could thus be taken as a measure of Yelp's popularity with advertisers.
Article continues below advertisement
Facebook counts 6.0 million advertisers on its main platform
Facebook (FB), Yelp's rival in the online advertising industry, provides a clearer view of its advertiser base. The company last disclosed that it has over 6.0 million active advertisers on its flagship social media site. Instagram, Facebook's mobile app that directly competes with Snap's (SNAP) Snapchat, boasts more than 2.0 million active advertisers.
Facebook's advertising revenues grew 49% YoY (year-over-year) to $10.1 billion in 3Q17, compared with Yelp's advertising revenues, which grew 18% YoY to $199.6 million in the same quarter.
Yelp maintains advertiser retention above 75%
In addition to reporting paying advertising accounts, Yelp also reports an advertising repeat rate. Yelp's repeat rate describes the percentage of its existing paying advertising accounts from which it recognized advertising revenues at least once in the trailing 12 months. Yelp's repeat rate is thus a measure of advertiser retention.
Yelp's repeat rate was 78% in 3Q17, compared with 76% in 2Q17 and 79% in 3Q16. Closer scrutiny of Yelp's repeat rate reveals that the company has maintained its advertiser retention rate above 75% for the past two years. This suggests that, despite competitive pressures from Facebook, Google (GOOGL), and Twitter (TWTR)—which are all expanding their local advertising presence—Yelp is holding firmly to its advertiser base.