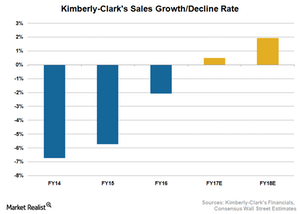 Could Kimberly-Clark's Sales Recover in 2018?
What's affecting Kimberly-Clark's sales?
The graph below shows that Kimberly-Clark (KMB) has been disappointing investors with its sluggish sales. Continued challenges in developed markets, especially North America, took a toll on its top-line performance. Increased competition further dented its sales growth rate.
Its top line was adversely impacted by lower diaper sales, primarily due to lower birth rates in South Korea and the United States (SPY). Increased competition in China (FXI) from local players further restricted its sales growth rate. Lower net selling prices also remained a drag.
Article continues below advertisement
Could sales recover?
Kimberly-Clark's top line is expected to benefit from favorable currency rates. Its volumes could also see a YoY (year-over-year) improvement, driven by innovation-led new products, planned brand activities, and higher marketing spending. Improved demand for its high-end products in China and favorable trends in Eastern Europe and Brazil could further support organic sales.
The company expects its sales to stay flat or increase marginally in 2017. Analysts expect Kimberly-Clark's top line to mark a slight improvement on a YoY basis in 2017. Analysts also project the company's sales to improve in 2018, driven by innovation and brand investments.
However, low birth rates are expected to hurt the company's diaper volumes. Lower net selling prices and an increasingly competitive environment could further hurt its sales growth rate.