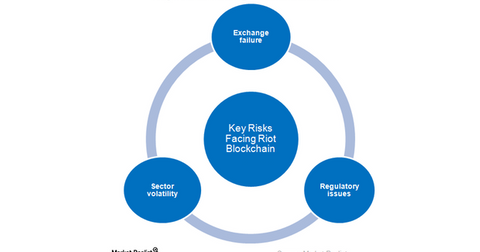 Key Risks Facing Riot Blockchain in December 2017
By Kenneth Smith

Updated
Failure risk of cryptocurrency exchange
Cryptocurrency exchanges are rather new, and there is concern about malware attacks and the safety of data. In the past, there have been instances of data breaches and coins being stolen from digital wallets. In 2014, Mt. Gox, a leading Japanese cryptocurrency exchange, filed for bankruptcy.
Article continues below advertisement
Margin uncertainty
The business model on which Riot Blockchain (RIOT) is working can be susceptible to volatility in the cryptocurrency space. A bitcoin miner is rewarded with coins for successful transaction verifications. As long as the value of the currency ticks upwards, the value of the coins increases. But during a downturn, the reward for mining starts to decrease. Coupled with the high power requirement for mining the margins, the value can quickly evaporate if the price of bitcoins falls substantially.
Bitcoin and Ethereum are the two cryptocurrencies on which Riot is focusing. Every month, new currencies are being launched, and Initial Coin Offerings (or ICOs) are being made. With the total number of currencies already at 800, it's possible that other cryptocurrencies could take center stage.
Regulatory issues
Cryptocurrencies are still not mainstream with various regulatory stances in different countries. In Japan, bitcoins are legal, while in the United States, authorities are still skeptical. BTCC, a leading bitcoin exchange in China, announced it would stop trading after Chinese authorities banned ICOs in September 2017.
In the recent run-up, Riot Blockchain's valuation is stretched thin. Its price-to-sales ratio now stands at 3,941. The ratios for Digital Power (DPW), overstock.com (OSTK), and Square (SQ) are 3.34x, 0.58x, and 7.24x, respectively.