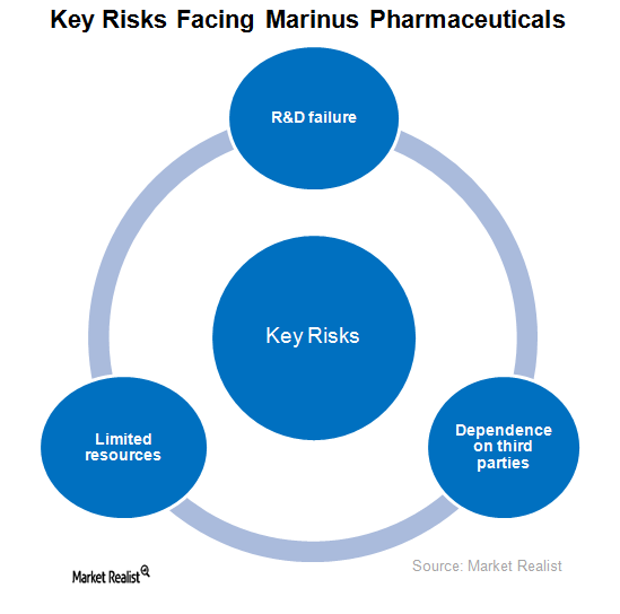 Key Risks Facing Marinus Pharmaceuticals in December 2017
By Kenneth Smith

Dec. 4 2020, Updated 10:52 a.m. ET
R&D failure
Since inception in 2003, Marinus Pharmaceuticals (MRNS) has focused on the development of ganaxalone. Ganaxalone showed a statistically significant benefit as compared to a placebo in a phase two study in the treatment of adults with focal onset seizures. However, ganaxalone failed to show a similar statistically significant benefit in a phase three study for the same indication. Consequently, Marinus Pharmaceuticals discontinued the program in adult focal onset seizures in 2016 and focused efforts for ganaxalone on postpartum depression, status epilepticus, and pediatric orphan indications.
Article continues below advertisement
Limited resources
For fiscal 2016, the company incurred a net loss of $28.6 million and had an accumulated deficit of $125.8 million at the end of fiscal 2016. To keep up the pace of ganaxalone development activities, Marinus Pharmaceuticals has had to resort to raising money through subsequent equity offerings, which has resulted in significant dilution in ownership for investors. This is evident when we consider the increase in outstanding shares of the company, which have risen from approximately six million in 2014 to 28.6 million at the end of 3Q17.
The cash per share, a metric of how much cash a company has for each outstanding share, stands at $0.90 for Marinus Pharmaceuticals. Sage Therapeutics (SAGE), Zogenix (ZGNX), and Zynerba Pharmaceuticals (ZYNE) have ratios of $6, $2.05, and $4.91, respectively.
Dependence on third parties
Marinus Pharmaceuticals relies on third parties to conduct preclinical studies and clinical trials. This reliance on contract research organizations (or CROs) extends to the monitoring and managing of data for ongoing clinical programs as well as executing preclinical studies and clinical trials.
Thus carrying out clinical programs efficiently is not entirely in the hands of Marinus Pharmaceuticals. As a result, the company's ability to carry out these functions is limited and any shortfalls in clinical activities could jeopardize the R&D activities of the company, which is concentrated on one product candidate, ganaxalone.