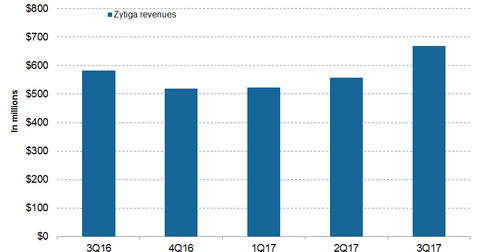 How Johnson & Johnson's Zytiga Performed in 3Q17
By Daniel Collins

Updated
Zytiga revenue trends
In 3Q17, Johnson & Johnson's (JNJ) Zytiga generated revenues of $669 million, which reflected ~15% growth on a year-over-year (or YoY) basis and 20% growth on a quarter-over-quarter basis. In 3Q17, in the US market and outside the US market (international markets), Zytiga reported revenues of $352 million and $317 million, respectively, compared to $282 million and $300 million in 3Q16.
Zytiga reported year-to-date September 2017 revenues of $1.75 billion compared to $1.74 billion in YTD September 2016.
Article continues below advertisement
About Zytiga
Zytiga (abiraterone acetate) is used in combination with prednisone for the treatment of individuals with metastatic castration-resistant prostate cancer.
In September 2017, Johnson & Johnson submitted a supplemental New Drug Application (or sNDA) to the US FDA (Food and Drug Administration) to expand the use of Zytiga in combination with prednisone and ADT (androgen deprivation therapy) for the treatment of individuals with high-risk metastatic hormone naïve prostate cancer (or HNPC) or newly diagnosed high risk metastatic hormone-sensitive prostate cancer (or HSPC).
The U.S. FDA submissions were based on results from the phase 3 LATITUDE trial in which patients receiving Zytiga demonstrated significantly increased overall survival and radiographic progression-free survival (or rPFS) versus patients on a placebo and ADT.
In the phase three LATITUDE trial, Zytiga, prednisone, and ADT combination therapy decreased the risk of death by 38% compared to the placebo and ADT. In the trial, patients on Zytiga, prednisone, and ADT demonstrated a 53% lower risk of radiographic progression or death versus patients on a placebo and ADT. Patients receiving Zytiga, prednisone, and ADT had a median rPFS of 33.0 months compared to 14.8 months for patients on a placebo and ADT.
In October 2017, the European Medical Agency's (or EMA) Committee for Medicinal Products for Human Use (or CHMP) recommended the expansion of the use of Zytiga for mHSPC.
The regulatory approvals for label expansion of Zytiga by the FDA and European Commission are expected to push the revenue growth of the drug. In the prostate cancer marketplace, Zytiga competes with Astellas Pharma's (ALPMY) Xtandi, Sanofi's (SNY) Jevtana, and AstraZeneca's (AZN) Casodex. The growth in sales of Zytiga could boost the share prices of the Vanguard Health Care ETF (VHT). The Vanguard Health Care ETF (VHT) invests ~10.6% of its total portfolio holding in Johnson & Johnson.