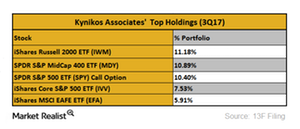 What Were Jim Chanos's Largest Holdings in 3Q17?
Jim Chanos's largest holdings
Billionaire investor Jim Chanos has taken short and long positions in various stocks so far in this year. In 3Q17, he made a substantial investment in the finance sector (XLF) and various ETFs.
His firm Kynikos Associates' largest holdings in 3Q17 were the iShares Russell 2000 ETF (IWM), the SPDR S&P MidCap 400 ETF (MDY), the SPDR S&P 500 ETF (SPY) Call Option, the iShares Core S&P 500 ETF (IVV), and the iShares MSCI EAFE ETF (EFA). These ETFs constitute 11.8%, 10.9%, 10.4%, 7.5%, and 5.9%, respectively, of Kynikos Associates' portfolio in 3Q17.
The strong position in these ETFs indicates that he's optimistic about the performance of the S&P 500 Index and mid-cap stocks of the United States (SPX-INDEX). Major US indexes and ETFs provided strong performances so far this year.
Article continues below advertisement
His top buys  
His firm's top buys in 3Q17 include the PowerShares QQQ ETF (QQQ) Call Option, Lowe's Companies' (LOW) Call Option, the iShares Russell 2000 ETF (IWM), the Vanguard S&P 500 ETF (VOO), and the Raytheon Company's (RTN) Call Option. His firm increased its position in these stocks by 2.6%, 1.7%, 1.5%, 1.0%, and 0.99%, respectively.
You may be interested to read, Bill Gross: Investors Should Be Careful about These Risks in 2018.