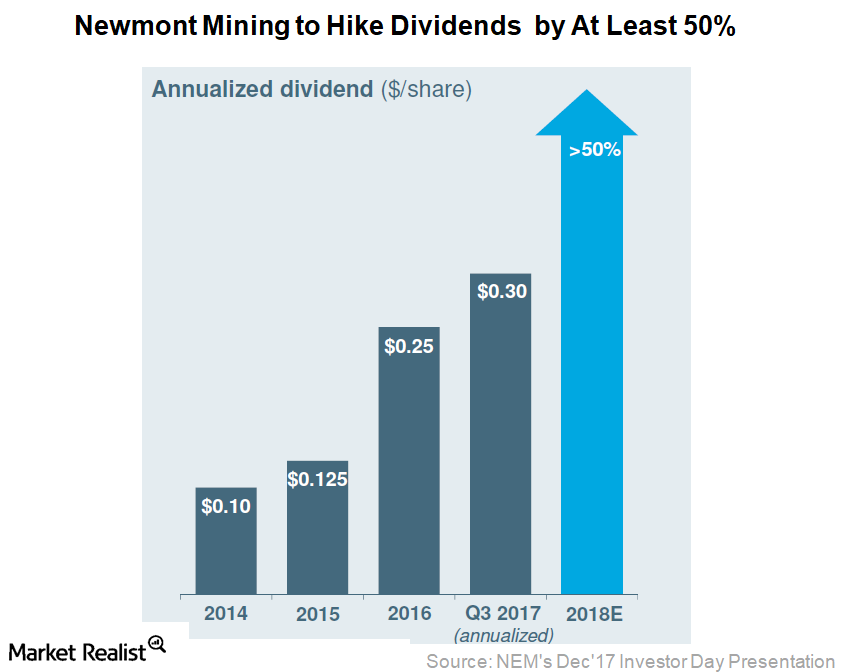 Investors Anticipate Higher Dividends from Newmont Mining in 2018
By Anuradha Garg

Dec. 25 2017, Updated 7:31 a.m. ET
Change in dividend policy
Newmont Mining (NEM) mentioned on its investor day that it is moving away from dividend policy directly linked to gold prices toward one that reflects the durability of its production profile and the stability of its business.
NEM's chief financial officer, Nancy Buese, also mentioned that the new dividends would be at least 50% higher than its current dividends. The company said this plan was in line with its vision of sharing more of its free cash flow with shareholders. The company is also looking at new dividends that would be sustainable throughout the price cycles.
Article continues below advertisement
Supporting higher dividends
Newmont Mining (NEM) plans to support higher dividends by balance sheet improvements and the performance of its mines. Newmont did not specify the structure or the formula that would be used to calculate its new dividend. It noted that it plans to decide on the revised policy in February 2018, which would take into consideration its 4Q17 results.
Newmont Mining has been paying higher dividends every year. In 2014, it paid 10.0 cents per share, followed by 12.5 cents in 2015 and 25.0 cents per share in 2016.
In the first nine months of the year, the company has already made dividend payments of 20.0 cents per share. Analysts were expecting a dividend of 30.0 cents per share for 2017.
Rise in dividends
When a company's dividends increase, its returns also increase and can signal a healthy future for the company. Companies usually cut their dividends when they are trying to position themselves for tougher times ahead.
Gold miners (SGDM) Newmont Mining, Barrick Gold (ABX), and Goldcorp (GG) cut their dividends when gold prices softened. Kinross Gold (KGC), on the other hand, altogether suspended its dividends to weather the volatile precious metal price environment.
The scenario has changed for the miners. After disposing of non-core assets and reducing their debt loads, they have emerged as much leaner and more profitable entities.