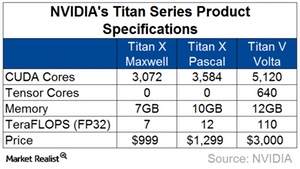 Inside NVIDIA's First Consumer-Grade Volta GPU: The Titan V
By Puja Tayal

Updated
Preview of NVIDIA's Titan V
NVIDIA (NVDA) has been focusing its efforts on growing in the AI (artificial intelligence) space, and the outcome of these efforts was visible at the annual NIPS (Neural Information Processing Systems) conference in December 2017.
The company launched its second Volta GPU (graphics processing unit), the Titan V, at the conference. This is the first consumer-grade GPU powered by Volta architecture and built on TSMC's (TSM) 12-nm (nanometer) FinFET (Fin Field Effect Transistor) node.
The launch came as a surprise as customers and analysts were expecting the company to launch the GeForce version of Volta GPU for gaming.
NVIDIA stated that Titan V offers a significant performance improvement over its predecessor while doubling energy efficiency. This performance boost is likely the result of its new architecture.
Article continues below advertisement
Titan V specifications
The Titan V card has 21.1 billion transistors, which are similar to Tesla V100 GPU for data center but higher than Pascal-based Titan XP's 12 billion transistors. Both Volta GPUs have 5120 CUDA cores.
The Titan V differs from Tesla V in memory, tensor cores, performance, and price. The Titan V features 640 tensor cores, compared with the V100's 672 and 12-GB (gigabyte) HBM2 (high-bandwidth memory) and the V100's 16 GB. The Titan V delivers 110 teraflops (floating-point operations per second) performance, which is nine times the Titan XP's 12 teraflops and slightly lower than V100's 120 teraflops. The Titan V has a boost clock speed of 1,455 MHz (megahertz), compared with the V100's 1530 MHz.
The Tesla V100 packs eight Volta GPUs and is priced at $10,000, whereas the Titan V packs six Volta GPUs and is priced at $2,999. This shows that NVIDIA has brought server-like performance to PCs (personal computers) through the Titan V, making it the most powerful PC graphics card to date.
Notably, the Titan XP was launched in April 2017 and had a price tag of $1,300. At just 2.3 times that price, NVIDIA is offering nine times higher deep-learning performance through the Titan V, which consumes the same power. This represents a remarkable improvement in just eight months and brings a significant performance at a lower price.
Advanced Micro Devices' (AMD) Radeon Vega GPU was competitive with NVIDIA's Pascal-based GeForce GTX 1080 but not with its higher-end Titan XP. With Titan V, NVIDIA appears to be leaving AMD's Radeon Vega way behind—especially in the deep-learning space.
Next, we'll discuss the target audience for the Titan V card.