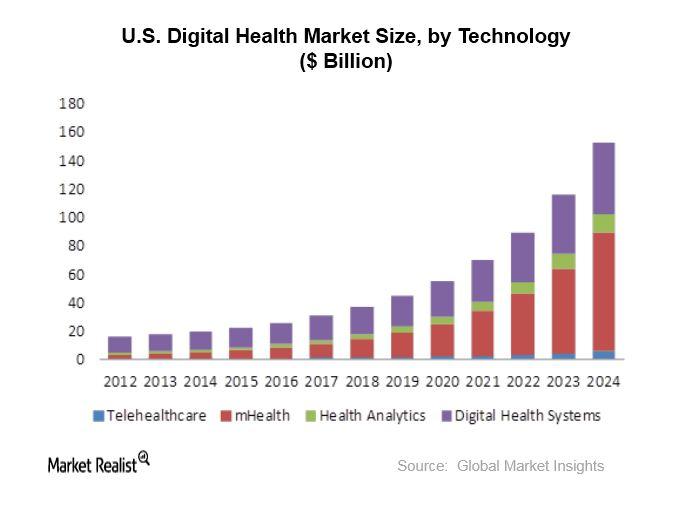 Inside Nokia's View of Digital Health after the Write-Down
Nokia took a $164-million charge in the digital health business
Nokia (NOK) wrote down roughly $164 million in goodwill on its digital health business in 3Q17, which came as a disappointment for a company that has sought to diversify its revenue streams to break overreliance on the sale of telecom networking equipment.
Nokia has sought expansion into the digital health market at a moment of weak demand in its main telecom network equipment market. In 3Q17, Nokia's networks unit recorded a 9.0% YoY (year-over-year) fall in revenue.
Since the networks business contributes the vast majority of Nokia's revenues, the weakness in the unit led the company's overall revenue to fall 7.0% YoY in 3Q17.
Article continues below advertisement
Digital health market growing nearly 26% annually
Digital health appears to be a promising market for Nokia, especially given the technology that it possesses. According to research firm Global Market Insights, the global digital health market will expand at an annual average rate of 25.9% between 2016 and 2024.
The global digital health market was estimated to be worth $51.3 billion in 2015. As you can see from the chart above, the US (SPY) is one of the places where the digital health market is expanding rapidly.
Nokia keeps hope alive despite setback
In what could further fuel the growth of the US digital health market, the FDA (US Food and Drug Administration) recently came up with a pilot program called PreCert, which is designed to speed up approval of digital health products. Apple (AAPL), Fitbit (FIT), and Johnson & Johnson (JNJ) were among the companies that the FDA selected to participate in the PreCert pilot.
Given the massive revenue opportunity in the digital health market, Nokia said that it remains committed to its digital health business, despite the write-down setback.