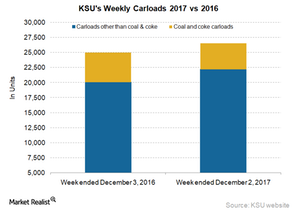 Inside Kansas City Southern's Freight Volumes in Week 48
Week 48: KSU's carload traffic
In the week ended December 2, 2017, US–Mexico commerce on Kansas City Southern (KSU) reported 6.1% carload traffic gains. The company's railcar volumes totaled 26,500 units during that week compared with ~25,000 units in the week ended December 3, 2016.
Compared with US railroads' 2.1% carload gain in the 48th week of 2017, Kansas City Southern posted higher gains during the week.
Kansas City Southern's (KSU) carload commodity groups excluding coal and coke rose 10.8% to ~22,200 units in week 48 from slightly more than 20,000 units in 2016.
For KSU, other than coal and coke carloads comprised 83.8% of total carloads. Its coal and coke carloads accounted for 16.2% of total carload in week 48 of 2017. Coal and coke carloads posted a 13.1% volume loss totaling 4,300 units in 2017.
Article continues below advertisement
Ups and downs in carload commodity groups
Kansas City Southern (KSU) reported gains in these commodity groups:
crushed stone, sand, and gravel
grain mill products
pulp and allied products
chemicals and allied products (DOW)
petroleum products (UNG)
motor vehicles and equipment
The carload commodity groups where volumes declined were:
grain
grain mill products (ADM)
food and kindred products
KSU's intermodal volumes
KSU registered a double-digit rise in its intermodal business in the week ended December 2, 2017. During that week, the company's intermodal volumes expanded 10.7% to ~19,000 containers and trailers from more than 17,000 units in the 48th week of 2016.
While container traffic jumped 9.8%, trailer volumes grew 48.8% in the reported week of 2017. Kansas City Southern reported an increase of more than 18,300 containers, up 1,630 units from more than 16,700 units in 2016.
KSU's trailer traffic totaled 604 units in week 48 compared with 406 in the same week of 2016. KSU's freight traffic growth including intermodal was much higher compared with US railroads' gain in week 48.
In the next article, we'll review Canadian National Railway's (CNI) freight traffic.