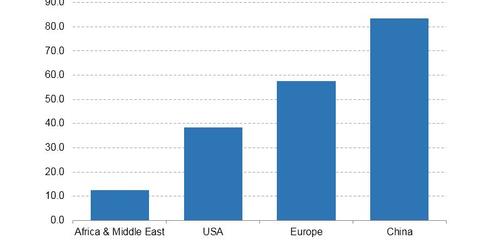 Inside Apple's Fight to Block One Proposal from a Vote
By Ruchi Gupta

Updated
Linking executive pay to diversity metrics
Apple (AAPL) is scheduled to hold its next annual meeting of shareholders on February 13, 2018. At such meetings, Apple shareholders get the opportunity to have a say in company decisions. Usually, proposals are made, and then shareholders are invited to vote for or against them. But there's one proposal that Apple is trying to block even before it gets to the vote at its February annual meeting.
In October, the company wrote to the SEC (the US Securities and Exchange Commission) where it sought permission to exclude a controversial shareholder proposal from its next annual meeting, Bloomberg reported. The proposal by Zevin Asset Management, which is estimated to own ~37,000 Apple shares, seeks to tie executive pay to performance on diversity and sustainability.
Article continues below advertisement
Workplace diversity said to affect financial success
In pushing for linking executive compensation to performance on diversity, Zevin notes that studies have shown that racial diversity in the workplace correlates highly with financial success. But Apple argues that since a similar proposal failed to garner sufficient support previously, it shouldn't be considered at its next meeting.
Where does Apple stand, then, on diversity and sustainability?
Apple's diversity and sustainability scorecard
In creating a diverse executive suite, Apple's own statistics show that it still has a long runway to cover. For example, Apple's employment report for 2016 showed that 73 of its 107 executives are white men, with Hispanic and black workers holding just two executive positions for each group.
In sustainability, Apple is a leader in investing in renewable energy. In June this year, Reuters reported that Apple was raising $1.0 billion through so-called green bonds to fund renewable energy and environmental sustainability projects. As you can see in the chart, China (MCHI) (FXI) is making a lot of new investments in renewable power.
Apple is aiming to power all its global operations with 100% renewable electricity, and it has already achieved more than 96% of this target. Alphabet (GOOGL) and Microsoft (MSFT) are also working to convert to clean energy for their operations.