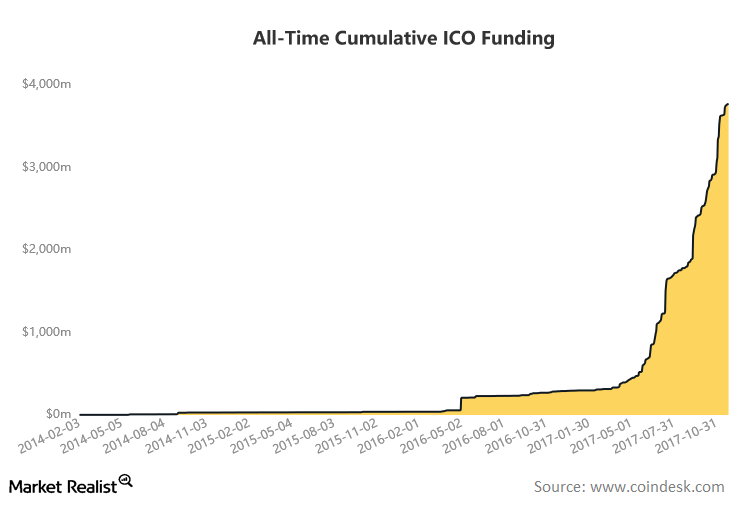 Initial Coin Offerings and the Market's Views
By Meera Shawn

Dec. 29 2017, Updated 12:53 p.m. ET
ICO market
Like an IPO (initial public offering), there's a new buzzword that has grabbed market attention: ICO (initial coin offering), or also known as IPCO (initial public coin offering). Startups use the term to bypass the rigorous and regulated capital-raising process required by banks. A percentage of the cryptocurrency is sold to early backers of the project. With much speculation around the ICO market, 2018 could bring upheaval and more scrutiny from the SEC.
The chart below shows how ICO funding has become prominent in today's world with massive growth. The market is slowly approaching the $4 billion mark.
Article continues below advertisement
Market views
The famous investor Roger McNamee, co-founder of venture capital firm Elevation Partners and an early investor in Facebook (FB), mentions that if Bitcoin mania lasts long enough, it could be self-fulfilling. Even after a crash, the industry could be legitimate. He also says that, though Bitcoin is new to investors, its volatility in 2018 could be quite apparent.
Edward Stringham, the president of the American Institute for Economic Research, said no one knows the valuation of Bitcoin and can't say whether it's going to be zero or $1 million or anything in between. Ric Spooner, a Sydney-based analyst at CMC Markets, told Bloomberg Television that Bitcoin could drop to $5,700 or $8,700 in the coming months.
Such mixed opinions make it difficult for the general market investor (QQQ) to form a view of Bitcoin, and the other cryptocurrencies (ARKW) remain relatively new to the market.