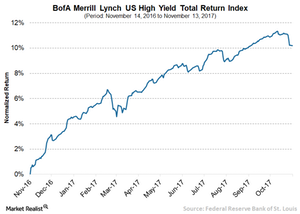 Why It's Imperative to Look for Yield Alternatives
By VanEck

Updated
VanEck
BUTCHER: One area where things do not seem to have changed very much this year is interest rates. What do you see happening in 2018?
Article continues below advertisement
We Remain Enthusiastic about Yield Alternatives
VAN ECK: The Federal Reserve stayed on course; they said they were going to keep tightening. They have said that they are going to reverse quantitative easing to the tune of $1 trillion, a little bit this year but a bunch more next year (let us call it half a trillion in 2018), and half a trillion in 2019. I think the question for 2018 is: How will the markets take it? Obviously the news is in the market because they have announced it, but it is hard to think that it will not cause a little bit more pressure on interest rates. This year we have suggested going for yield alternatives such as emerging markets and high yield. We would definitely continue into 2018 with this year's enthusiasm.
Market Realist
Emerging markets and high yield are in a sweet spot
In September, the Federal Reserve announced it will trim its $4.5 trillion balance sheet, which was bought up to encourage economic growth after the financial crisis of 2007–08. The Fed started pruning its balance sheet gradually by around $10 billion per month in October, which will slowly rise to around $50 billion per month. On one hand, the central bank is reducing its balance sheet. On the other, it is gradually raising interest rates to align with economic growth. The Fed has raised interest rates twice this year and appears on course for another rate hike in December. In the past two months, Treasury yields have jumped on the back of a stronger US economy and expectations of higher interest rates.
High yields delivered healthy returns
Against this backdrop, US high yield bonds (JNK) (HYG) and emerging markets (VWO) (IEMG) look attractive. In the last year, high yield bonds as represented by the BofA Merrill Lynch US High Yield Total Return Index returned 10.2% compared to a 1.1% median return for Morningstar's entire domestic fixed-income universe. The relatively strong economy and a default rate below 2% bodes well for the high yield bond market.
As discussed in the previous article, emerging markets (EEM) have also delivered higher returns than most of the developed markets. As EM economies are gradually cruising ahead, stocks in this asset class are likely to see upward momentum in the years to come.