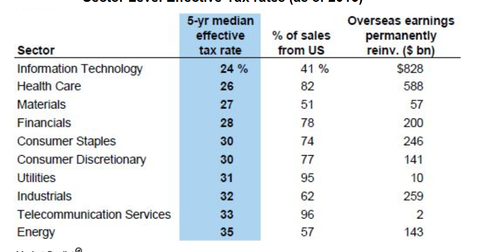 How Impending Tax Reform Is Affecting Oracle and Its Peers
By Anne Shields

Updated
Tech sector downgraded to "neutral" from "overweight"
In another Market Realist series, we discuss the impact of proposed tax reform plan on the technology sector as a whole. Oracle (ORCL) and the overall tech sector are expected to be key beneficiaries of this tax reform, which proposes a maximum tax rate of 20%, because many companies in the tech sector park the majority of their cash reserves abroad.
Along with Microsoft (MSFT), Apple (AAPL), and Google (GOOG), Oracle features among the top five S&P 500 (VOO) companies holding the maximum amount of cash overseas.

According to Goldman Sachs (GS) strategists, though the proposed tax bills could boost S&P 500 earnings by 5% in 2018, it would likely be a cause of 3% decline in the tech sector. This helps explain why the tech sector was the worst-performing sector earlier in this month.
Factors that led to tech sector's downgrade
Citing Goldman Sachs analysis, CNBC.com wrote: "Tech has the lowest effective tax rate of any sector [24 percent] and would benefit the least under the various proposals. The tax proposals target multinationals by trying to restrict 'earnings stripping' and by introducing a minimum tax on overseas revenues. Although tech has the highest expected sales growth and profit margins, it also has the highest risk from tax reform, valuation, and government regulation."
Notably, as the tech industry is expected to benefit the least from the proposed tax bill, the sector has been downgraded to "neutral weight" from "overweight" by Goldman Sachs.