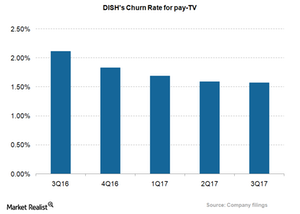 Impact of Hurricane Maria on DISH Network Subscribers
By Aaron Hemsworth

Dec. 22 2017, Updated 9:01 a.m. ET
After-effect of Hurricane Maria
DISH Network (DISH) customers living in Puerto Rico and the U.S. Virgin Islands were severely impacted by the devastation caused by Hurricane Maria in September. The storm left these islands devastated and many people homeless.
It may take some time for these islands to recover. The emergency situation has forced DISH, the satellite giant, to cut off services across regions of Puerto Rico and the U.S. Virgin Islands, resulting in the loss of about 145,000 subscribers.
From the graph above, we can see the pay-TV churn rate for DISH Network in the last five quarters.
At the end of 3Q17, DISH's pay-TV subscribers stood at 13.2 million compared to 13.6 million in the prior year's quarter. However, the company's churn rate was 1.6% in the reported quarter against 2.1% in 3Q16.
Article continues below advertisement
DISH sets target
DISH believes that the loss of subscribers due to the impact of Hurricane Maria may impact its revenue more than $1 million every month until things are restored. The company has set a target to reconnect with those 145,000 customers by next year.
According to DISH, those reconnections will be treated as new pay-TV subscriber additions. The company also believes that it will save on programming expenses due to the disconnection.
Comcast (CMCSA) and AT&T (T) also suffered from the impact of Hurricanes Harvey and Irma in August 2017.