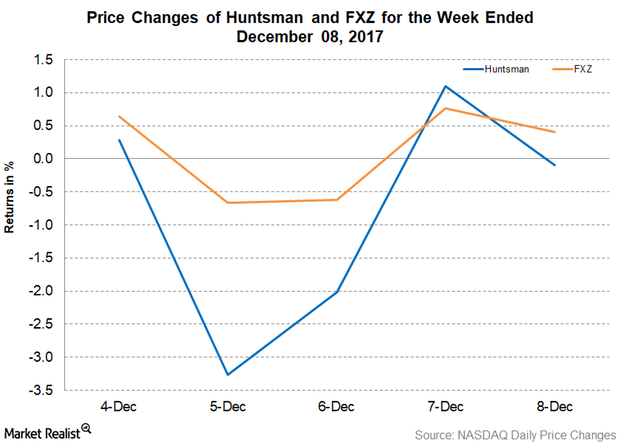 Huntsman Repays Its Senior Term Loan
By Peter Neil

Dec. 12 2017, Updated 7:33 a.m. ET
Huntsman repays its senior term loan
On December 4, 2017, Huntsman (HUN) announced that it would pay the remaining $511 million of its Term Loan B due in 2023. The loan will be paid using the net proceeds of $471 million from the secondary public offering from Venator (VNTR) along with cash in hand. The repayment of this loan will help to decrease the interest expense by $20 million per year. At the same time, it will also help to improve HUN's leverage ratio. At the end of 3Q17, HUN's leverage ratio was at 1.80x.
Article continues below advertisement
After this payment, HUN's debt, which includes long-term debt and current portion of debt, could come down to approximately $2.3 billion. In 2017, HUN had repaid approximately $2.1 billion in debt and is expected to save $70 million in interest expense per year. Peter Huntsman, president and CEO of Huntsman, said, "This year alone, from the monetization of Venator together with free cash flow, we will have repaid ~$2.1 billion of debt, and in excess of $2.6 billion since the beginning of 2016. We have transformed our balance sheet to investment grade type metrics with pro forma net leverage as of September 30th 2017 of ~1.8 times."
Stock update
Surprisingly, Huntsman stock fell 4.0% and closed at $30.45 for the week ended December 8, 2017. Despite the decline in stock prices, HUN traded 7.4% above the 100-day moving average price of $28.34, indicating an upward trend in the stock. The stock has risen 58.9% on a year-to-date basis. However, analysts are still bullish on the stock and have projected a target price of $37.55, which implies a return potential of 23.3% over the closing price as of December 8, 2017. HUN's  relative strength index indicates that the stock is neither overbought nor oversold.
Investors can indirectly hold HUN by investing in the First Trust Materials AlphaDEX Fund (FXZ), which invests 2.2% of its portfolio in Huntsman. The fund also provides exposure to Westlake Chemical (WLK), Cabot (CBT), and LyondellBasell (LYB), which have weights of 3.9%, 3.4%, and 3.5%, respectively, as of December 8, 2017.