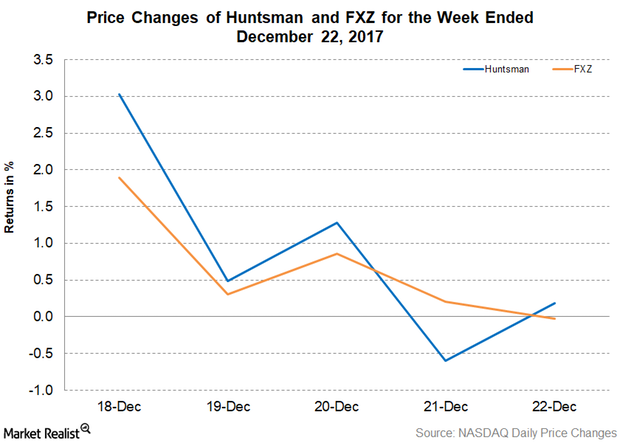 Huntsman Gives Updates on Management Changes
Changes in Huntsman's board
On December 19, Huntsman (HUN) announced changes to its board. Jon Huntsman, founder of Huntsman, will step down from his role of executive chair on December 31, 2017, the position he held for 48 years. He will continue to serve as director and chair emeritus. Peter Huntsman has been elected as the chair of the board of directors of the company, which will be an additional role for him apart from his role of president and chief executive officer. This change will be effective on January 1, 2018.
Article continues below advertisement
Peter Huntsman said, "I am honored to be taking on this responsibility at a time when the Company has never been stronger and had more opportunities before it. This will be a smooth transition as our founder, my father, will continue in a valuable capacity as a Board member, maintaining vital relations with customers, suppliers, and policy makers as well as sharing his total 56 years of industry experience."
Update on Huntsman's stock movement
Huntsman stock rose 4.4% and closed at $33.10 for the week ended December 22, 2017. The increase in stock price has widened the gap of 100-day moving averages. HUN traded 14.7% above the 100-day moving average price of $28.87, indicating an upward trend in the stock. Huntsman has given solid returns in 2017 so far. On a year-to-date basis, the stock has risen 73.5%. HUN's 14-day relative strength index of 64 indicates that the stock is neither overbought nor oversold.
Investors can indirectly hold Huntsman by investing in the First Trust Materials AlphaDEX Fund (FXZ), which has invested 2.2% of its portfolio in Huntsman. The fund also provides exposure to Westlake Chemical (WLK), Cabot (CBT), and LyondellBasell (LYB), which have weights of 3.9%, 3.5%, and 3.4%, respectively, as of December 22, 2017.