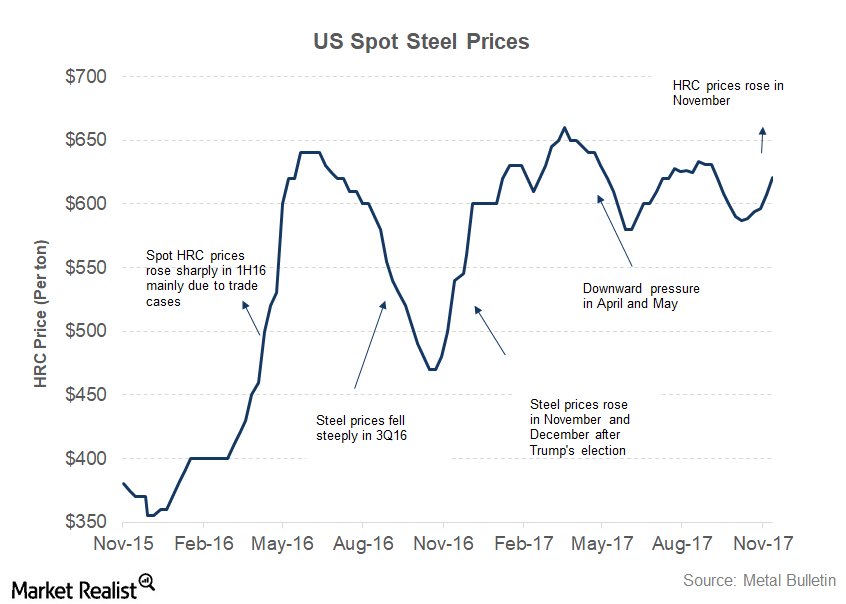 Here's What Really Supported Chinese Steel Demand in 2017
Chinese steel demand
As we've already seen, despite higher steel production, Chinese steel exports have fallen this year. On the other hand, Chinese aluminum exports have risen year-over-year in the first 11 months of the year. Looking at official data, Chinese steel production has registered a larger yearly increase this year compared to its aluminum production. However, the official steel production data could have some inconsistencies due to the shutting down of some of the illegal steel capacity in China. Along with the supply side, China's steel and aluminum demand dynamics have been different in 2017. Let's look at that in perspective.
Article continues below advertisement
Demand dynamics
China's metal demand has been better than expected this year, prompting several metal producers to lift their 2017 demand forecasts. For instance, during its 2Q17 earnings call, Alcoa (AA) raised its 2017 aluminum demand forecast to 4.75%–5.25%. During its 1Q17 earnings call, the company said it expects global aluminum demand to rise 4.5%–5% in 2017. Looking at steel, ArcelorMittal (MT), the world's largest steelmaker, raised China's 2017 steel demand growth forecast by 200 basis points in its 2Q17 earnings call. While China's aluminum demand has been better than expected this year, the country's steel demand has taken market observers by surprise.
Better-than-expected construction activity in the first half of 2017 was the key driver of China's metal demand this year. It's worth noting that almost half of steel finds its way into the construction sector, while the figure is much lower for other metals such as aluminum and steel (X) (AKS) (NUE). So higher construction spending had a much larger impact on steel than some of the other metals. Also, steel finds its way into buildings in the initial phases of construction, while aluminum and copper are typically used during the later stages.
China's November copper imports surprised the markets on the upside. We'll look at that in detail in the next part.